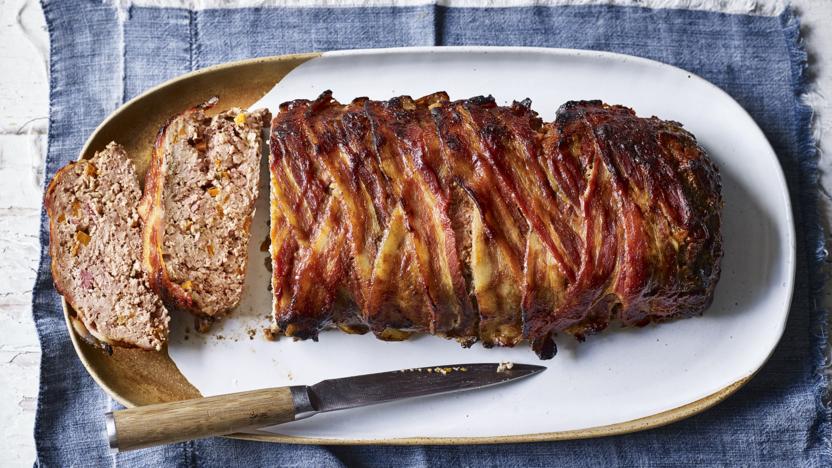 This is an American classic and is made here with a combination of beef and pork mince.

Delicious served with this wedge salad.
Ingredients
For the meatloaf
For the glaze
Method
Preheat the oven to 200C/180C Fan/Gas 6.

For the meatloaf, heat the oil in a sauté pan and add the onion, celery and carrot. Fry until the onion is translucent and all the vegetables are softened. Turn up the heat and cook for a few more minutes until the onions are slightly caramelised. Add the garlic and cook for a further 2 minutes. Remove from the heat and leave to cool.

Put the mince and bacon in a large bowl and add the herbs, garlic powder, mustard and breadcrumbs. Add the vegetables, pour in the double cream and break in the egg. Season well with salt and pepper. Mix everything together thoroughly, making sure especially that the beef and pork are well combined.

Take a large baking tray and mould the meatloaf mixture into a large loaf shape on the tray. The dimensions should be roughly those of a large loaf tin (30x12cm/12x4½in).

Cut the bacon rashers in half, then stretch out with the flat of a knife. You should find they are just long enough to drape over the sides and top of the meatloaf. Arrange these over the meatloaf in a criss cross pattern and tuck under any excess bacon at the sides. The whole loaf should be covered except for the two ends.

For the glaze, place all of the ingredients into a small saucepan and whisk over a low heat until well combined (and any sugar is dissolved if using). Brush the whole meatloaf generously with most of the glaze. Cook in the oven for 30 minutes, then remove and brush with the glaze again. Bake for a further 25–30 minutes until cooked through. The bacon should be crisp and glossy and the meatloaf should be cooked through and piping hot in the middle.
This recipe is from...
Recipes from this episode