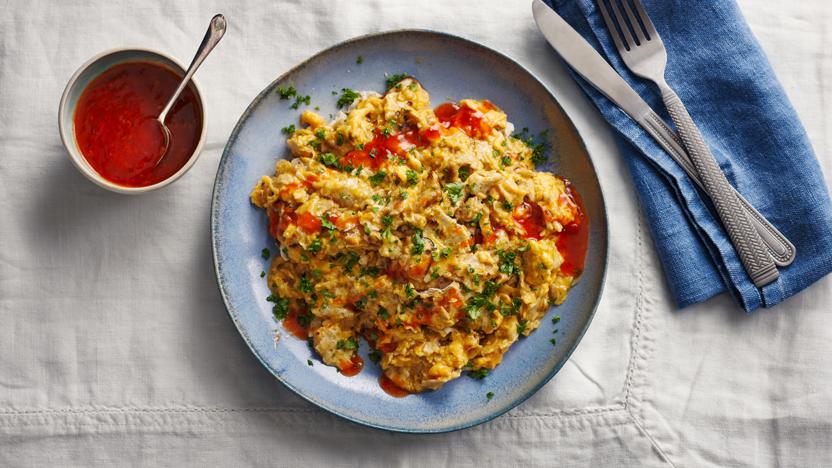 Matzo brei is the Passover version of French toast, or eggy bread, made with unleavened matzo crackers rather than bread. It can be served sweet, for example with cinnamon and sugar, or savoury, with salt and pepper, smoked salmon or, as here, with a spoonful or two of chilli sauce.
Ingredients
For the chilli sauce
For the matzo brei
Method
To make the chilli sauce, put the chillies in a small saucepan, add the vinegar and salt and bring to the boil over a high heat. Turn the heat down to low and simmer for 15 minutes, until the chillies are tender. Leave to cool, then blitz until smooth, using a stick blender or in a mini chopper.

To make the matzo brei, soak the matzo pieces in a bowl of cold water for 1 minute. Drain and set aside.

Whisk the eggs together with plenty of salt and pepper, and heat a splash of oil in a small frying pan over a medium–high heat.

Gently fold the soaked matzo into the egg, and pour the mixture into the frying pan. Cook for 30 seconds, then turn the matzo pieces over with a spatula. They will break into a couple of large chunks. When the egg is just set, serve the matzo brei sprinkled with parsley, if using, and the chilli sauce.
Recipe Tips
If you are making matzo brei at Passover, make sure your matzo crackers are suitable.
This recipe makes about 200g/7oz of chilli sauce, which will keep in a sterilised jar in the fridge for up to a month.