Mary's sticky toffee pudding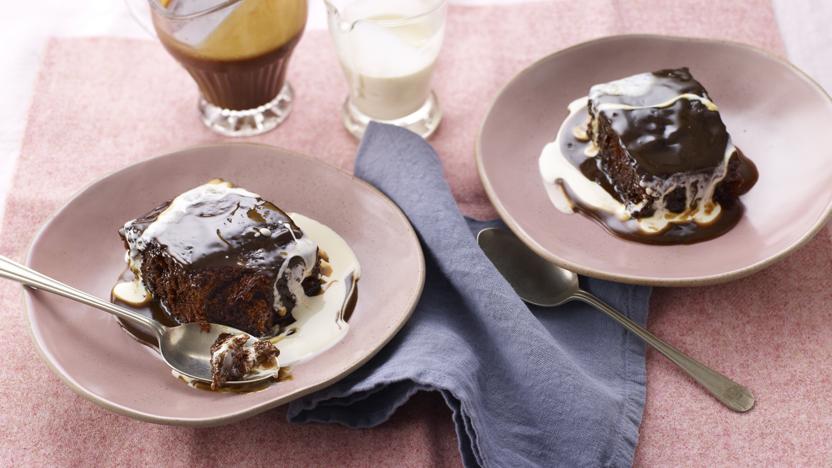 Sticky, gooey and surprisingly light and easy, Mary's sticky toffee pudding is a winner.

Baked in a large dish, this is a family-sized pudding, spooned out or cut into squares to serve. For this recipe you will need a 1.7-litre/3-pint ovenproof dish and an electric whisk. Each serving provides 927 kcal, 9g protein, 88g carbohydrates (of which 60g sugars), 59g fat (of which 36g saturates), 1.5g fibre and 1.9g salt.

Method
Preheat the oven to 180C/160C Fan/Gas 4. Butter a wide shallow 1.7-litre/3-pint ovenproof dish.

Put the butter, sugar, eggs, flour, baking powder, bicarbonate of soda and treacle into a mixing bowl. Beat using an electric handheld whisk for about 30 seconds or until combined. Pour in the milk gradually and whisk again until smooth. Pour into the prepared dish. Bake for 35–40 minutes or until well risen and springy in the centre.

To make the sauce, put all the ingredients into a saucepan and stir over a low heat until the sugar has dissolved and the butter has melted. Bring to the boil, stirring for a minute.

To serve, pour half the sauce over the pudding in the baking dish. Serve with the cream or ice cream.
Recipe Tips
This recipe can be cooked up to a day ahead and reheated. The sauce can be made up to 3 days ahead, cover and store in the fridge.
This recipe is from...
Recipes from this episode