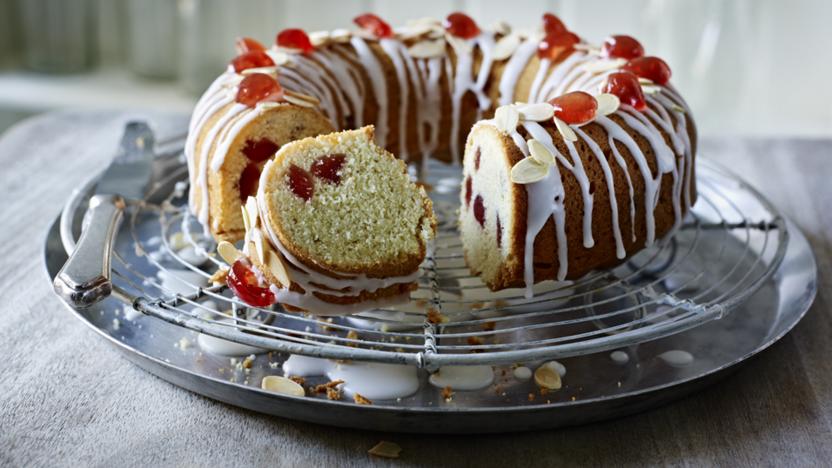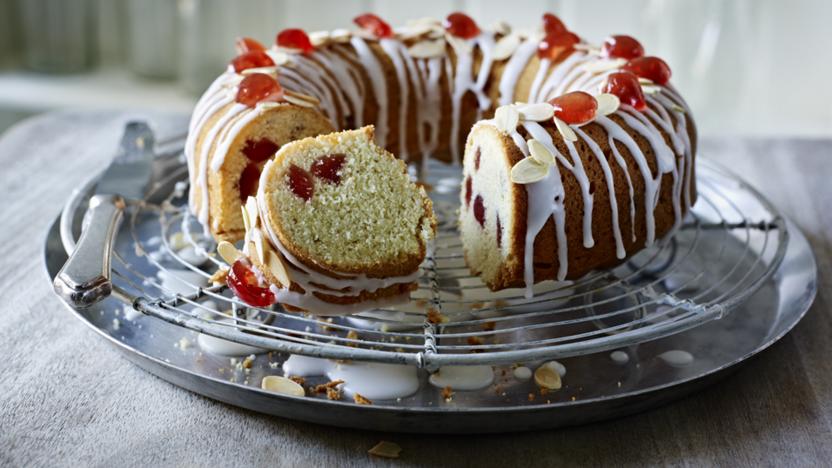 A lovely cherry sponge cake with a little extra texture from the ground almonds. Dusting the cherries with flour helps stop them sinking to the bottom of the cake.

Equipment and preparation: for this recipe you will need a 23cm/9in savarin mould or a bundt tin (alternatively use a 20cm/8in round cake tin).
Ingredients
For the decoration
Method
Preheat the oven to 180C/160C Fan/Gas 4. Grease a 23cm/9in bundt tin or savarin mould with butter.

Cut the cherries into quarters. Set aside five of the quartered cherries for the decoration later. Put the rest of the quartered cherries in a sieve and rinse under running water. Drain well then dry thoroughly on kitchen paper and toss in two tablespoons of the flour.

Measure all the remaining ingredients into a large bowl and beat well for two minutes to mix thoroughly. Lightly fold in the cherries. Turn into the prepared tin.

Bake in the preheated oven for 35-40 minutes until well risen, golden-brown and a skewer inserted into the centre comes out clean. Leave to cool in the tin for 10 minutes then turn out and cool on a wire rack.

For the icing, mix the icing sugar together with the lemon juice to a thick paste. Drizzle over the cooled cake using the back of a spoon, sprinkle over the toasted almonds and reserved cherries.