Marinated ribs with tomatillo salsa, guacamole and tortilla chips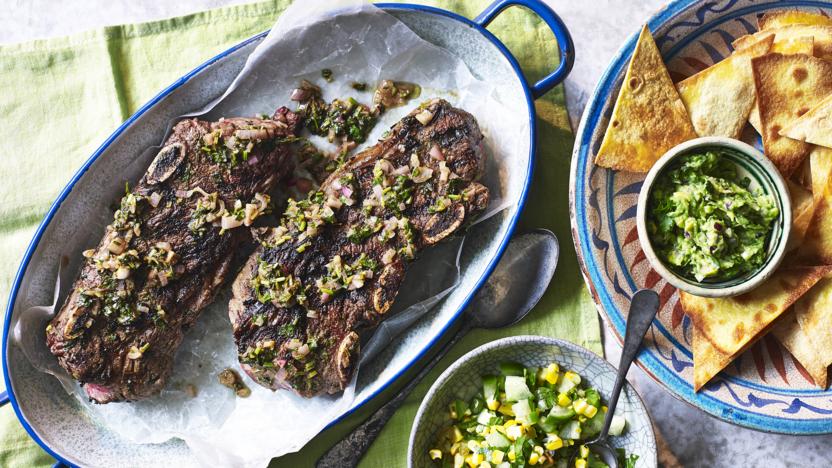 This Mexican feast is full of flavour and perfect for sharing. The flanken cut ribs will need to be cut by a butcher, but seek them out as they taste so delicious.

Ingredients
For the ribs
For the salsa
For the guacamole
For the homemade tortilla chips
Method
Put the ribs into a large tray and add the remaining ingredients, reserving half the chilli for the salsa, and stir to combine. Leave to marinade at room temperature for at least 1 hour.

Meanwhile, for the salsa, place the corn onto a large griddle pan and cook until browned all over. Remove the kernels and place into a large bowl. Add the remaining ingredients with the reserved chilli and mix.

For the guacamole, put all the ingredients into a pestle and mortar and pound to combine.

For the tortilla chips, preheat the oven to 200C/180C Fan/Gas 6. Cut the tortillas into triangles, place on a baking tray and drizzle with the oil. Bake for 6–8 minutes.

For the ribs, heat a large griddle pan over a high heat, add the ribs and cook on each side of 1–2 minutes. Warm through the left over marinade in a small saucepan over a medium heat.

Place the cooked ribs, salsa, guacamole and tortilla chips onto a large serving plate. Drizzle the warm marinade over the ribs and serve.
This recipe is from...
Recipes from this episode