Mangsho fita shinni (beef curry)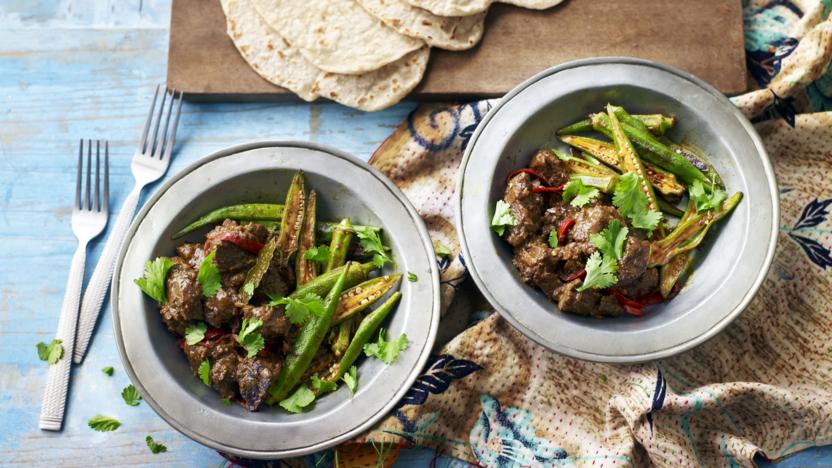 Nadiya's beef curry sings of spice, serve it with crunchy okra for a taste of Bangladesh.
Ingredients
For the beef curry
For the fita
For the okra
Method
For the curry, heat the oil in a large pan. Add the cinnamon, cardamom and bay leaves and cook for 1 minute. Add the ginger, garlic, onion and cook for 10 minutes. Add the ground spices and cook for 1 minute, taking care not to burn them. Add the beef and cook over a medium-high heat for 30 minutes.

Add 200ml/7fl oz water, season with salt. Cook over a medium heat for 30 minutes. Remove from the heat and add the chillies and coriander (reserve some coriander for garnish).

Meanwhile, for the fita, bring 750ml/26fl oz water to the boil in a large pan with a little salt. Remove from the heat and add the rice flour. Leave for 10 minutes, covered, to cook the rice out. Remove the dough while still hot and roll out onto a surface dusted with rice flour. Cut out into small rounds.

Heat a flat pan over a medium heat. Cook the fita for about 1 minute on each side, until they are cooked through but have not coloured.

For the okra, work the paprika, garlic powder, chilli flakes and ½ teaspoon salt into the okra. Heat the vegetable oil in a large frying pan over a high heat. Briefly fry the okra – it should keep its colour and have a soft bite to it.

To serve, spoon out the beef curry and serve with the fita and the okra. Garnish with the coriander.
This recipe is from...
Recipes from this episode