Mango and coconut vegan meringue
This delightful egg-free meringue is packed with tropical flavours of sliced mango, frozen coconut avocado cream and lime zest.



Ingredients
For the coconut and avocado cream
For the meringue
To serve
Method
To make the coconut and avocado cream, heat the sugar and coconut milk in a small saucepan over a medium heat, stirring until the sugar has dissolved. Tip the mixture into a blender, add the avocado flesh and blend until smooth. Squeeze in the lime juice and mix well. Transfer into a lidded container and place in the freezer until frozen.

To make the meringue, preheat the oven to 120C/100C Fan/Gas ½ and line a baking tray with baking paper.

Whisk the chickpea water as you would a normal meringue: using an electric whisk, beat until soft peaks form (similar to egg whites). Add the sugar a little at a time, whisking constantly until thick and glossy. Whisk for 10–15 minutes (it will take longer than making egg white meringue). Add the cream of tartar and vanilla. Spoon or pipe the meringue mixture onto the prepared baking tray to make 6 individual meringues and bake for 1½ hours, until crisp. Leave in the oven with the door closed to cool.

Place a meringue onto each of 6 plates, fan out the mango slices on top and serve with a scoop of soft avocado ice cream. Garnish with toasted coconut and lime zest.
This recipe is from...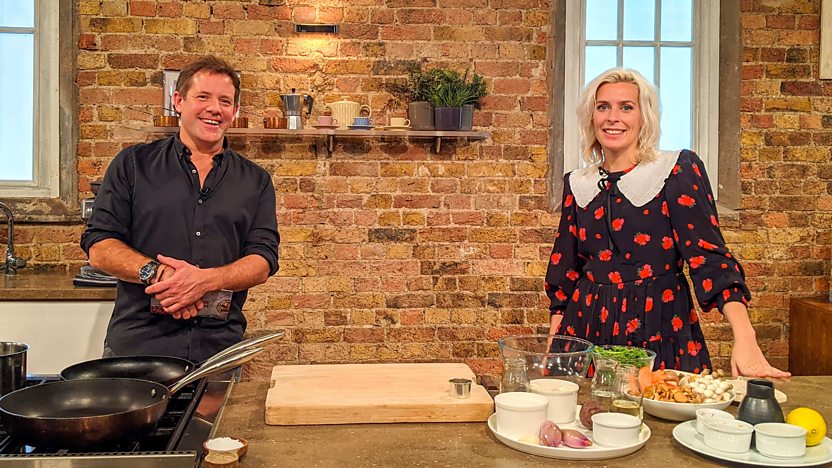 Saturday Kitchen
24/10/2020