Sugar-free mango and lime mousse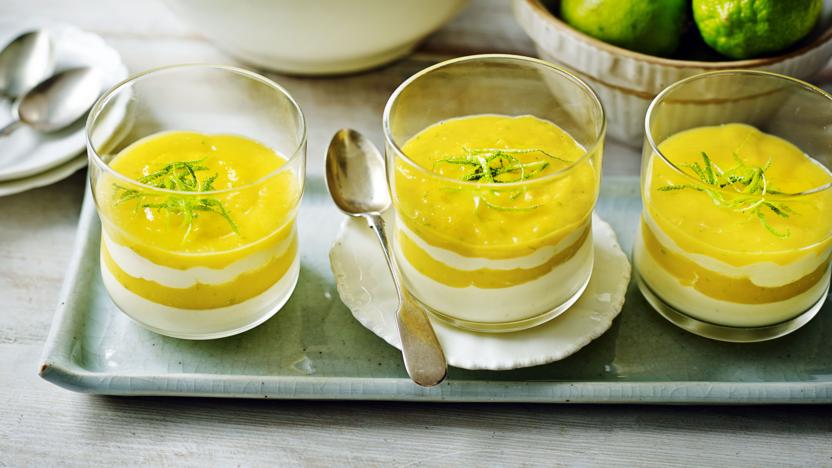 This tropical mousse is simple to make and contains no added sugar, proving that life without sugar can still be sweet.

Equipment and preparation: for this recipe you will need a food processor. This mousse provides 252 kcal, 1.8g protein, 16g carbohydrate (of which 16g sugars), 20g fat (of which 13g saturates), 4g fibre and 0g salt per portion.
Method
Half fill a bowl with cold water and add the gelatine sheets one at a time. Leave to soak for 5 minutes.

Cut the mango in half either side of the large flat stone. Using a large spoon, scoop out the flesh and put into a food processor. Add the lime zest and blend until as smooth as possible. This may take a couple of minutes.

Put 5 tablespoons water in a small saucepan and heat very gently until lukewarm. Lift the gelatine sheets out of the cold water with your fingers and carefully drop into the warm water, stir vigorously with a wooden spoon for a few seconds until the gelatine dissolves. Remove from the heat.

Whip the cream using an electric whisk in a large bowl until it stands in fairly stiff peaks.

With the motor running on the food processor, pour the gelatine solution slowly onto the mango purée and pulse until completely combined.

Put 6 tablespoons of the mango purée in a small bowl. Add the remaining purée to the whipped cream and whisk together lightly until smooth.

Spoon half the mango cream into four glass tumblers and spoon half the mango purée on top. Spoon the rest of the mango cream on top then finish with the remaining purée. Cover the dishes with cling film and chill for at least 3 hours before serving.