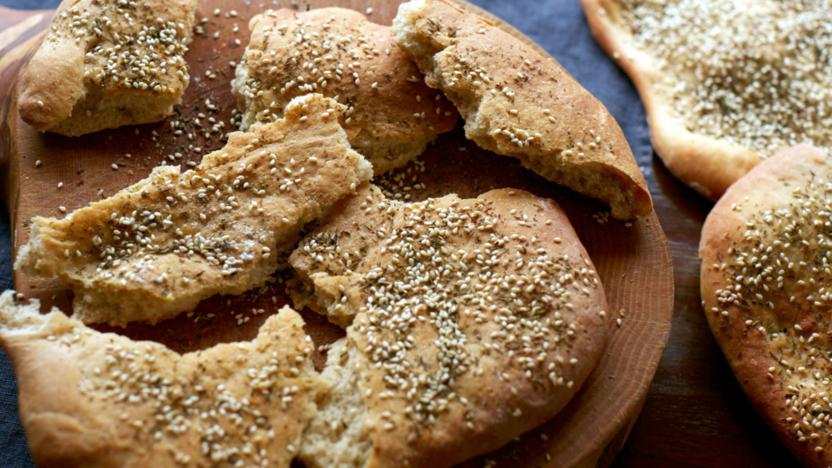 A Middle Eastern flatbread topped with herbs and sesame seeds. Serve in slices with baba ganoush and dips.
Ingredients
For the topping
Method
Mix together the flour, salt, sugar and yeast. Add the olive oil and 270ml/9½fl oz of the water. Using your fingers, mix the ingredients together. Gradually add the remaining water until all the flour has come away from the sides of the bowl and you have a soft dough (you may not need all the water; the dough should be soft and not sticky).

Pour a little oil onto your work top. Place the dough on top and knead for 5-10 minutes. The dough will be wet in the beginning but will form a smooth dough once kneaded.

Once a smooth dough is achieved, place into a clean oiled bowl, cover and leave to double in size.

Line three baking trays with parchment paper.

Tip the dough onto an oiled work top. Knock the dough back by folding it on itself, repeating this until all the air is knocked out and the dough is smooth. Split the dough into three and roll into large circles.

Place onto the lined baking trays and cover each tray with a carrier bag. Leave to rest for 20 minutes.

Mix the topping ingredients with a little olive oil until you have a thick paste. Preheat the oven to 230C/450F/Gas 8.

Just before baking, brush the surface of the breads with olive oil. Spread the topping over each of the breads and bake for approximately 15 minutes.

Remove from the oven and transfer to a wire rack to cool.
This recipe is from...
Recipes from this episode