Preparation time
less than 30 mins
Cooking time
30 mins to 1 hour
Francesco Mazzei combines some of Italy's finest produce to make this stunning salad.
Preparation time
less than 30 mins
Cooking time
30 mins to 1 hour
Method
Remove the tough leaves from each artichoke and cut off the stalks. Throw away the first round leaves as they are too bitter. Reserve the remainder of the tough outer leaves, the stem and the very centre part if the artichoke (the choke) for the stock. Separate the tender leaves from the rest, and rub the tender leaves from each artichoke with a cut lemon so they don't discolour, then place in a bowl of water for later (they will be eaten raw).

Gently fry the garlic and shallots in a little olive oil until golden-brown. Add the anchovies, white wine and reserved tough artichoke leaves and stem. Cook until the wine has evaporated completely.

Add a generous pinch of sea salt and freshly ground black pepper, then add the sugar, mint, breadcrumbs, 5g/¼oz of the grated parmesan and the vegetable stock. Simmer for approximately 30 minutes. Set aside to cool.

In the meantime, mix the avocado with the chopped chilli, a little lemon juice and lemon zest. Season to taste with salt and freshly ground black pepper.

Chop the raw artichoke into an extremely fine julienne. Toss in some lemon juice and salt. Mix with the avocado and set aside.

Make a dressing by passing the artichoke cooking liquor through a fine sieve. Mix with the olive oil and a squeeze of lemon juice.

To serve, spoon the avocado and artichoke mixture into a 10cm/4in metal chefs' ring sitting in the middle of each serving plate. Press down gently to compact.

Using a palette knife, smooth the top then carefully remove the metal ring.

Arrange the celery cress on top with shavings of parmesan. Drizzle the dressing around the plate and finish with the remaining grated parmesan.
Related Recipes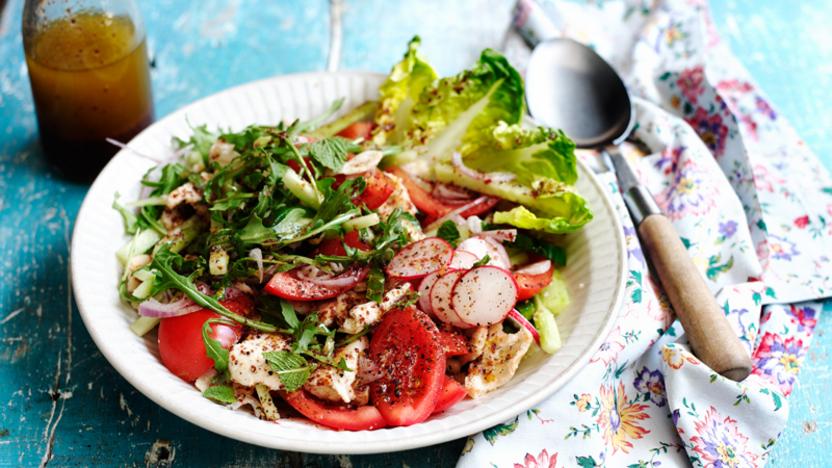 See more salad recipes (144)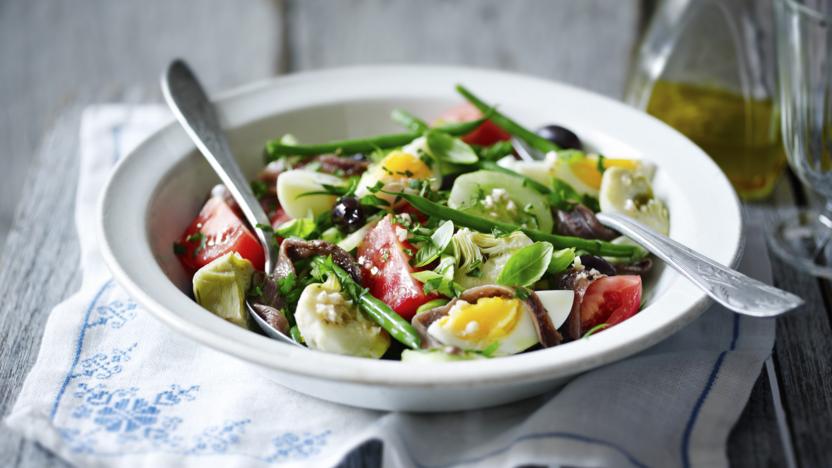 See more artichoke recipes (56)