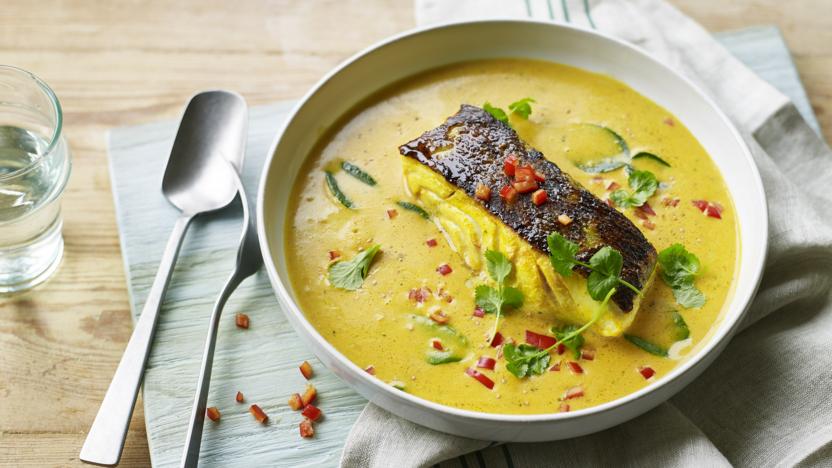 A rich and luxurious fish curry on the table in just half an hour - what more could you want?! This one is made with white fish, so even fussy eaters will love it.



Ingredients
For the sauce
For the fish
Method
To make the sauce, heat the oil in a saucepan over a medium heat. Add the shallots, ginger, garlic and lime leaves. Cook for 8–10 minutes, or until softened, stirring regularly.

Stir in the chilli, coriander and turmeric and cook for 1 minute. Stir in the coconut milk, salt and 100ml/3½fl oz cold water and bring to a simmer. Cook for 5 minutes, then remove from the heat and blend with a stick blender until smooth. Alternatively, cool it little and transfer it to a food processor or blender to blend. (For a really smooth sauce, pass through a fine sieve.) Set aside.

Put the fish in a bowl, add the lemon juice, turmeric and salt and toss. Heat the oil in a frying pan over a medium heat. Add the fish, skin-side down, and cook for 3 minutes. Turn it over and cook on the other side for 2 minutes. Add the mustard seeds for the last minute of cooking.

Pour the sauce into the pan with the fish and bring to a gentle simmer. Add the lime leaves. Simmer gently for 3–4 minutes, or until the fish is cooked through and just beginning to flake.

Serve the moilee, with freshly cooked rice if using, garnished with the red chilli and coriander.
This recipe is from...
Recipes from this episode