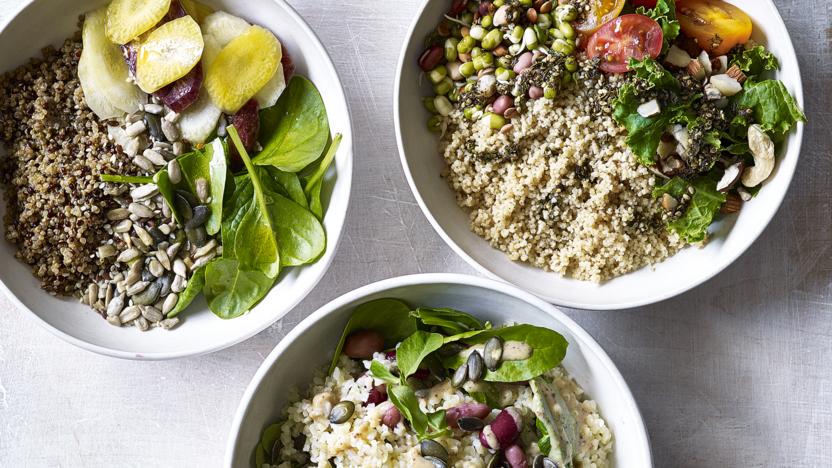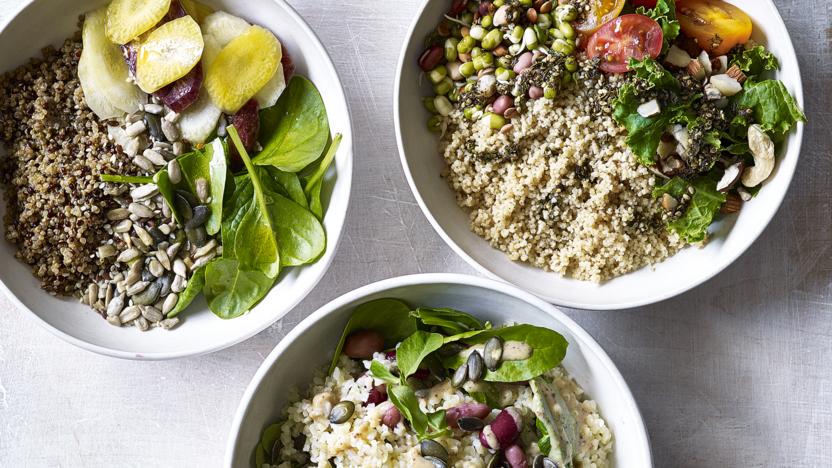 Learn how to make three delicious grain bowls using quinoa, wholewheat couscous and bulgur. Add plenty of veg and healthy fats and you can meal prep your way to healthy lunches.
Ingredients
For the couscous bowl
For the quinoa bowl
For the bulgur wheat bowl
Method
To make the couscous bowl, measure the couscous into a bowl and pour over the hot stock.

Cover the bowl with a plate and leave to stand for 8 minutes, until all of the stock has been absorbed and the grains are light and fluffy. Fluff with a fork before serving.

Top with the kale leaves, baby tomatoes, nuts, sprouted lentils and beans. Whisk together the za'tar with the olive oil and pour over before serving.

To make the quinoa bowl, measure the quinoa into a bowl and just cover with cold water. Leave to stand for 20 minutes.

Drain the quinoa and rinse under cold running water. Transfer to a hot frying pan and toast for 1-2 minutes, until it starts to sizzle.

Pour over enough boiling water to cover the grains, pop on the lid and simmer for 15 minutes, stirring occasionally. It should have a light bite to it when cooked through properly. Fluff with a fork before serving. (You can rinse it in a sieve over the sink with cold water to cool it down if using in a make-ahead grain bowl straight away.)

Top with the spinach, carrots and seeds. Whisk together the remaining ingredients and pour over just before serving.

To make the bulgar wheat bowl, rinse the bulgar wheat in a sieve over the sink to remove the starch.

Add to a pan of boiling water (enough to fully cover the grains) and simmer for around 12 minutes, stirring every now and then, or until tender, chewy and nutty in flavour.

Top with the mixed salad leaves, pumpkin seeds and mixed beans.

Mix together the tahini and oil until silky smooth, then add the rest of the ingredients. Keeps for up to 1 week in an airtight container in the fridge.
Recipe Tips
Squeezing kale leaves in your hands really does tenderise them very easily and quickly.
This recipe is from...
Recipes from this episode