Mackerel with rhubarb chutney and orange and chicory salad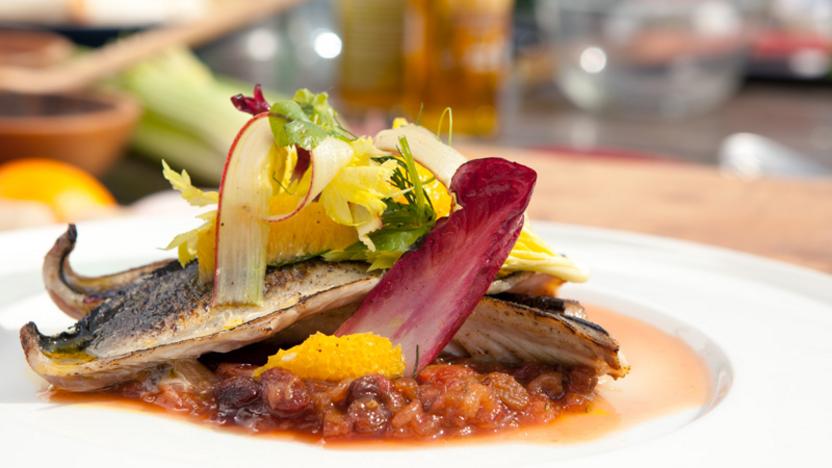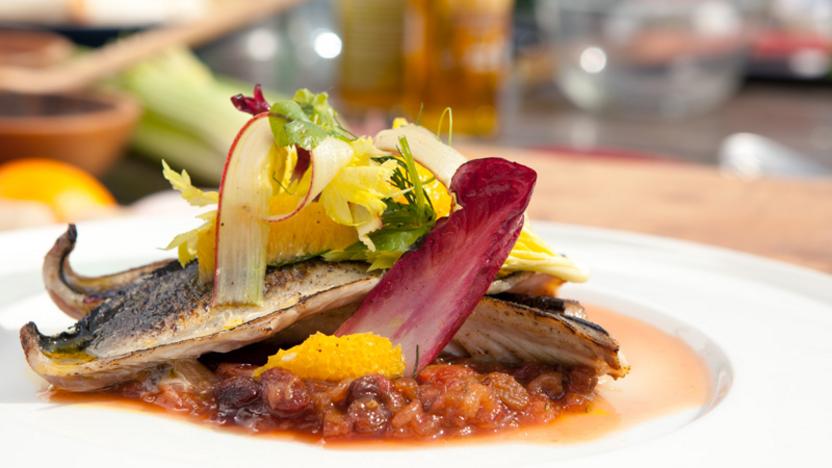 Tangy rhubarb really complements the rich, oily mackerel and a light citrus salad rounds it all off perfectly.
Ingredients
For the chutney
For the mackerel
For the salad
For the garnish
Method
For the chutney, in a heavy-based pan melt the sugar until a golden-brown caramel forms. Remove from the heat and stir in the sultanas, rosemary sprigs, ginger, shallot and rhubarb.

Stir in the cider vinegar and orange juice. Bring back to the boil and cook gently for 8-10 minutes. Season with salt and pepper and set aside to cool.

To make the salad, mix together the orange segments, chicory leaves, pea shoots, celery tops and dill. Dress with rapeseed oil and season with salt and pepper.

For the mackerel, place the mackerel fillets skin-side up on an oven tray. Brush with rapeseed oil and use a blow torch to cook evenly. Turn over and repeat on the other side (alternatively place the fillets under a hot grill). Season with salt and pepper.

Serve a spoonful of chutney with the cooked mackerel fillets and salad. Garnish with ribbons of rhubarb.
This recipe is from...
Recipes from this episode