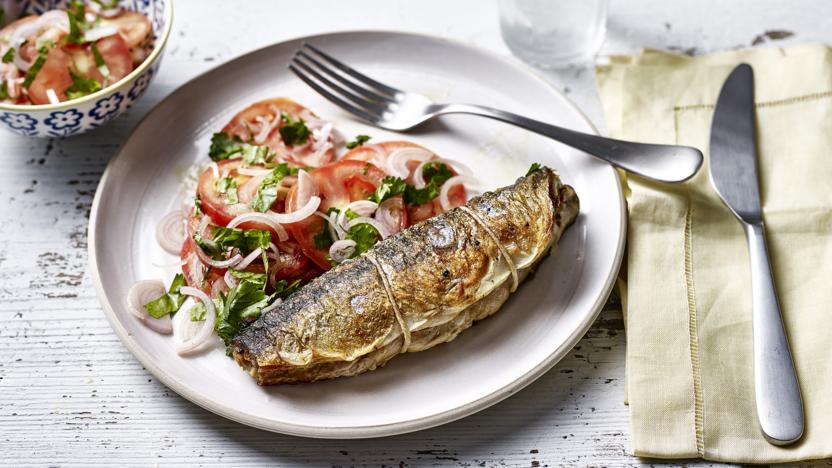 Recheado masala (also known as rachead masala) is a fiery and tangy paste from Goa. Traditionally used with fish, it can also be used with chicken or vegetables. It's wonderful here with fresh mackerel and a crisp katchumber salad.

Ingredients
6 small mackerel, filleted (preferably with the fillets joined by a piece of skin)
sunflower oil, for cooking
For the recheadao masala paste
For the katchumber salad
Method
Grind the cumin seeds, coriander seeds, peppercorns and cloves in a spice grinder or with a pestle and mortar. Tip into a food processor with the remaining recheadao ingredients and pulse to form a paste.

Spread slightly less than a teaspoon of the paste on one mackerel fillet, then top with the other. Take two pieces of kitchen string and tie around the fish to keep the fillets together. Repeat with the other five fish.

To make the salad, layer the ingredients in a large shallow dish, starting with the tomato, then the shallot, coriander, cumin and cayenne. Sprinkle over the vinegar, then some salt. Don't mix it up, just leave it to stand while you cook the fish.

Heat 2 teaspoons oil in a heavy-based pan. When hot, add the mackerel and cook for 3 minutes on each side, or until golden-brown, being careful not to overcook. You may need to do this in two batches.

Mix the salad to combine the ingredients and serve alongside the mackerel.
Recipe Tips
To barbecue the mackerel, light the charcoal barbecue 30–40 minutes ahead of cooking time. When ready to cook, brush the grill with oil, then brush the fish with oil and grill for around 2–3 minutes on each side.