Mackerel en croûte with gooseberry chutney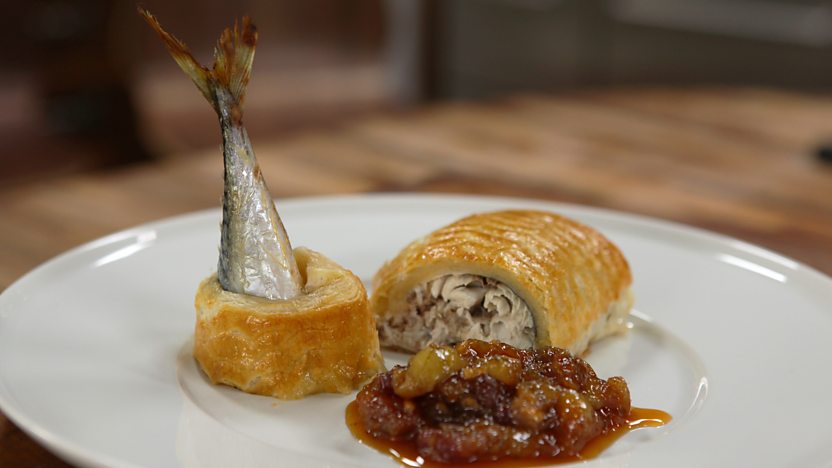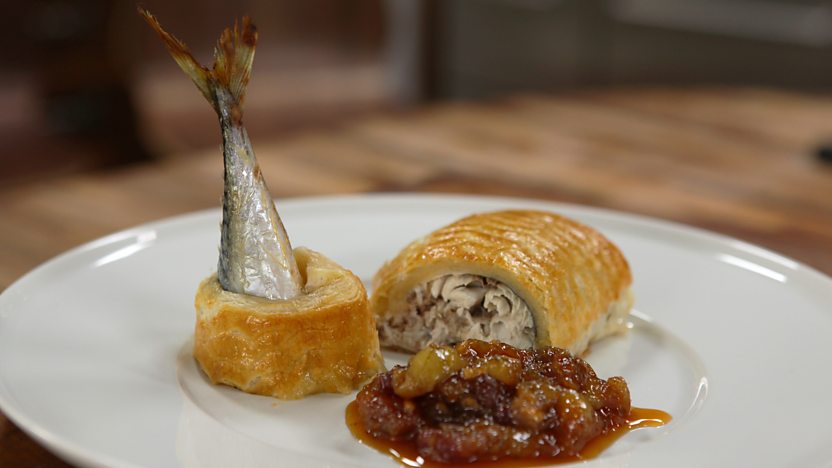 This is one of James' restaurant dishes adapted for the home cook. Its fresh flavours and pretty presentation will wow.
Ingredients
For the chutney
For the mackerel
Method
For the chutney, heat the sugar in a large, heavy-based pan over a low heat, stirring well until it has melted and turned golden-brown (CAUTION: boiling sugar is extremely hot. Handle very carefully. Use a deep pan to avoid bubbling over.). Stir in the sultanas, thyme, ginger and shallot.

Add the cider vinegar and gooseberries to the pan, stir well and bring the mixture to the boil. Reduce the heat and simmer gently for 8-10 minutes, stirring occasionally, until the gooseberries have softened and broken down. Season, to taste, with salt and freshly ground black pepper, then set aside to cool slightly.

For the mackerel, preheat the oven to 220C/200C Fan/Gas 7.

Blend the salmon and lemon juice to a fine paste in a food processor. With the motor still running, gradually add the cream in a thin stream until all of the cream has been incorporated into the mixture and the paste has thickened to a fluffy mousse. Season, to taste, with salt and freshly ground black pepper.

One by one, carefully stuff the cavities of the mackerel first with the tarragon leaves, then with the salmon mousse.

Roll the pastry out onto a lightly floured work surface to a thickness of 0.5cm/¼in. Cut the pastry into four rectangles - these should be long enough to wrap around the stuffed fish and half as wide as the fish (about 15cm x 18cm/6in x 7in).

Brush each pastry rectangle with a little of the beaten egg, then wrap one rectangle around the middle of each fish, pressing the ends of the pastry together underneath the fish to seal (use a little more beaten egg for this if necessary).

Place the wrapped, stuffed fish onto a baking tray. Wrap the tail of each fish in greased aluminium foil to stop them from burning. Sprinkle a little sea salt over each fish.

Bake the stuffed mackerel in the oven for 18-20 minutes, or until the pastry is risen and golden-brown and the fish are cooked through. Remove from the oven and set aside to cool for about five minutes.

To serve, cut each mackerel in half and serve with a dollop of gooseberry chutney.
Recipe Tips
To create the effect of fish scales score semi-circular marks on the pastry after the fish has been wrapped in it.