Packed lunch macaroni cheese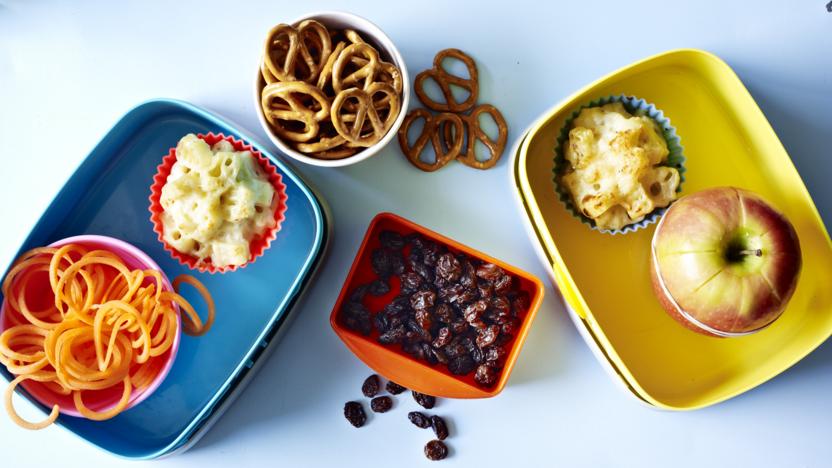 Turn macaroni cheese into a lunchbox staple by baking it in individual silicone cupcake moulds.
Ingredients
25g/1oz butter
25g/1oz plain flour
500ml/17½fl oz milk
100g/3½oz cheddar cheese, grated
50g/2oz parmesan cheese, or similar vegetarian hard cheese, grated
400g/14¼oz whole wheat macaroni pasta, cooked according to packet instructions
Method
Preheat the oven to 200C/180C Fan/Gas 6.

Melt the butter in a saucepan over a medium heat. Once the butter is melted, add the flour and cook for about three minutes, or stirring continuously. Gradually add the milk, a little at a time, to the flour and butter mixture, stirring with a wooden spoon until any lumps have melted and the sauce is glossy before adding more milk. Once all the milk has been incorporated, reduce the heat to low and simmer for about three minutes. Stir in the cheddar and half the parmesan until it's melted.

Add the cooked pasta to the cheese sauce and transfer the mixture to a deep baking dish. Alternatively, line the holes of a muffin tin with six silicone cupcake wrappers and divide the mixture evenly between them. Sprinkle with the remaining parmesan and place in the oven to cook for about 20 minutes, or until golden-brown. Serve hot or cold.
Recipe Tips
Add chopped cherry tomatoes, defrosted frozen peas or cooked carrots to incorporate a few more vegetables.