A beautiful starter for a Chinese-style banquet. Serve the stuffed prawns on a platter and let people help themselves.

Ingredients
For the Macanese prawns
For the sauce
100g/3½oz cold butter, cut into small cubes
For the garnish
Method
Preheat the oven to 180C/160C Fan/Gas 5.

For the Macanese prawns, using a very sharp knife, carefully butterfly the prawns but cutting them in half horizontally. Keep the shell intact and, using the tip of the knife, remove the dark digestive cord. Gently rinse the prawns in cold water and pat them dry with kitchen paper.

Heat a wok until it is hot. Add 2 tablespoons olive oil, the garlic, onion, spring onions and chillies. Stir-fry for about 2 minutes. Season with salt and pepper to taste. Transfer to a bowl and set aside while you cook the prawns.

Reheat the wok and add the remaining 3 tablespoons olive oil. Gently fry the prawns for about 30 seconds on each side.

Place the prawns on a baking tray and stuff each of the prawns with the garlic and onion mixture. Reserve any remaining stuffing for the sauce.

Put the prawns in the oven for about 3-4 minutes, or until cooked.

For the sauce, add the remaining stuffing to a small saucepan set over a medium heat. Gently incorporate the butter and simmer gently for about 3 minutes.

To serve, put the prawns on a serving platter and serve with the lemon wedges and butter sauce.
This recipe is from...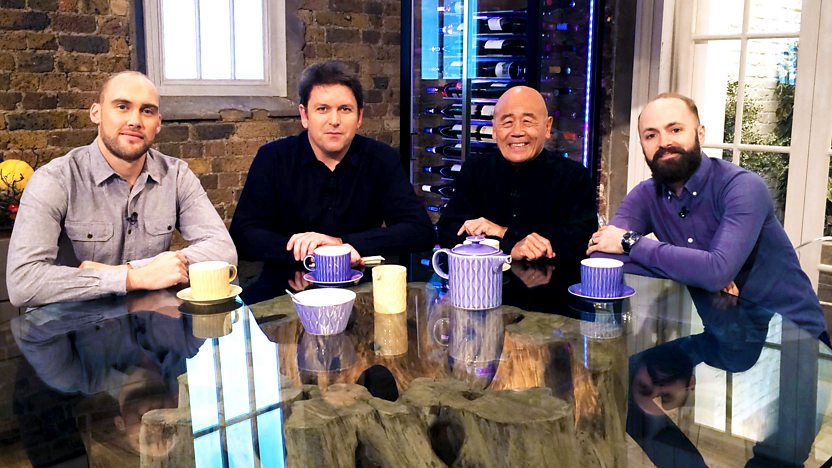 Saturday Kitchen
22/11/2014
Recipes from this episode