This alternative take on a mac and cheese uses cauliflower purée to create a thick sauce and it is spiced up with green finger chillies and chilli powder.

Method
Bring 1 litre/1¾ pints water to the boil in a large saucepan. Add a little salt and boil the florets for 4–5 minutes. Remove with a slotted spoon, refresh under cold water in a bowl and drain.

Add the macaroni to the same pan and cook according to the packet instructions. Remove with a slotted spoon, refresh under cold water and drain. Mix with the cauliflower.

Add the cauliflower trimmings and stems to the water and cook for 5 minutes until very soft. Remove the cauliflower trimmings and stems and blitz with some of the cooking water to create a purée. You need to have about 250–300ml/9–10fl oz cauliflower purée.

Preheat the oven to 200C/180C Fan/Gas 6. Generously grease the inside of a large baking dish with butter.

Melt the butter in a large saucepan and add the cumin seeds. Cook for 30 seconds, then take off the heat. Add the flour and stir in well. Whisk in the milk and some of the puréed cauliflower until well blended. Return the saucepan to the heat and stir well but gently with the whisk. From time to time, scrape with a spatula to ensure it is not sticking to the bottom. Bring to the boil and simmer for a few minutes, adding more puréed cauliflower if needed, until it is the consistency of white sauce. Add the green chilli and chilli powder and season with salt and pepper.

Stir half of the cheese into the sauce and mix until the cheese has melted and the sauce is smooth. Take off the heat and add the mustard, macaroni and cauliflower to the sauce. Mix well but gently. Add the coriander and check everything is well coated in sauce – if needed, add some more purée.

Transfer the mixture to the baking dish. Combine the remaining cheese with the breadcrumbs and sprinkle over the top. Bake for about 15–20 minutes until the topping is golden and crisp. Serve immediately.
This recipe is from...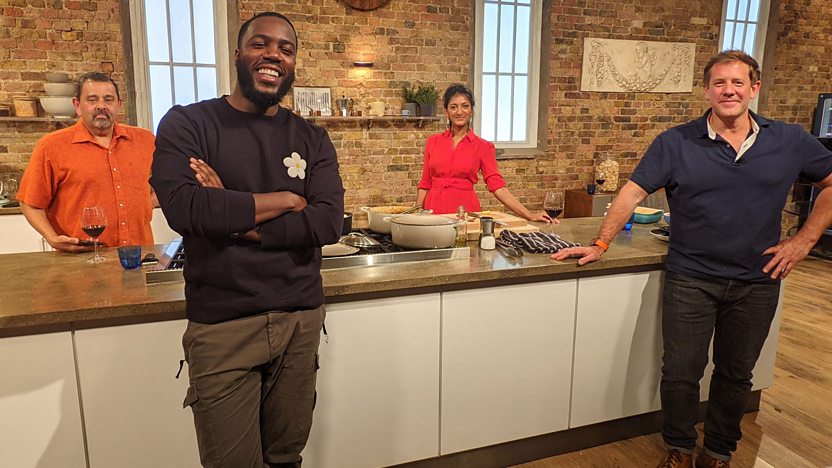 Saturday Kitchen
04/09/2021