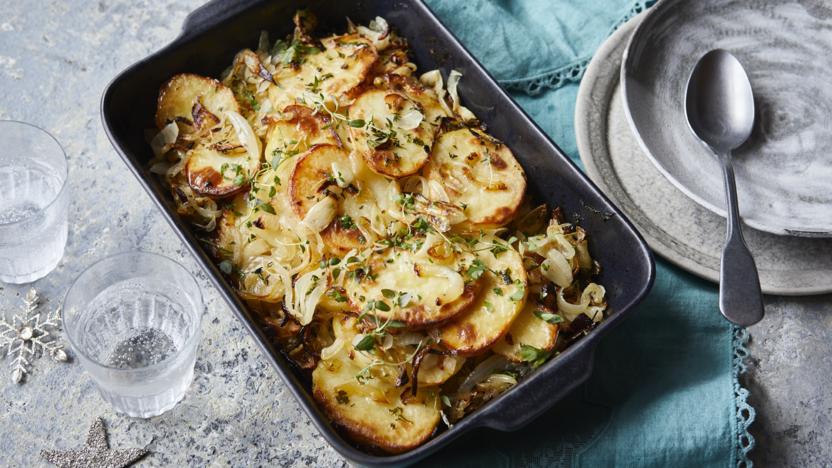 Traditionally this French dish is sautéed on the hob, but if you're serving as a Sunday roast accompaniment all that last-minute fuss can be a distraction. This is finished in the oven instead. This dish also makes for a simple vegetarian supper served with some sharply dressed salad leaves.


Method
Put the sliced onions, olive oil and half the butter in your largest frying pan. Cook over a low-medium heat until the onions are super-soft but not golden-brown yet – this might take up to 30–35 minutes.

Meanwhile bring a large pan of salted water to the boil. Slice the potatoes into 1cm/½ in thick slices. Once the water is boiling, add the potatoes and when the water has returned to the boil, set your timer for 3 minutes. Drain immediately and leave in the colander to steam dry. Heat the oven to 200C/180C/Gas 6.

When the onions are done, remove from the heat and stir through the parsley and thyme with the garlic and some generous seasoning. Gently toss the onion mixture and par-boiled potatoes together – you can do this in the frying pan if they fit, or a large mixing bowl.

Tip everything into a large baking dish – you don't want the mixture to sit any deeper than 5cm/2in. Arrange and press the top down a little to roughly flatten. Dot the remaining butter all over the top.

Bake for 35–40 minutes, or until the top is golden-brown and crisp, and the potatoes cooked through. A little extra garnish of chopped parsley and fresh thyme is nice, but not strictly necessary.
Recipe Tips
Prepare up to the end of Step 4 several hours ahead.