Lunchbox chorizo frittata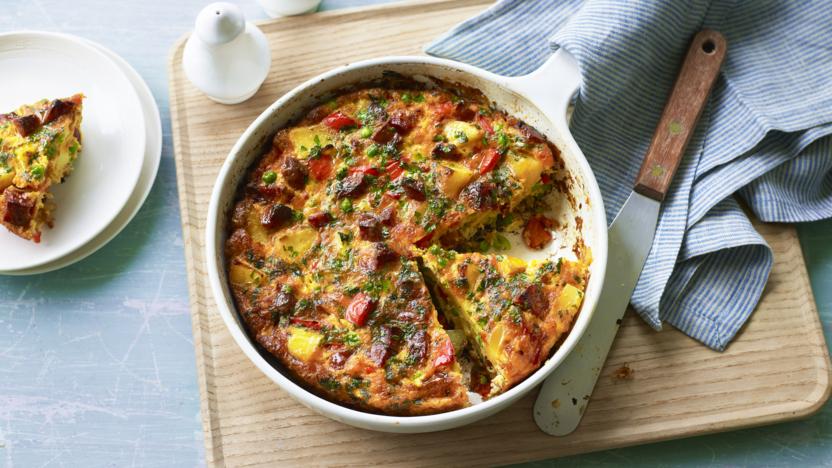 A thick slice of Spanish omelette, packed with chorizo, peas and potatoes, can be enjoyed hot or cold. Keep a few slices handy in the fridge for lunches or a speedy midweek tea.

Each serving provides 421 kcal, 27g protein, 17g carbohydrates (of which 6g sugars), 26g fat (of which 9g saturates), 4g fibre and 2.2g salt.

Method
Preheat the oven to 200C/180C Fan/Gas 6. Heat an ovenproof frying pan on the hob until just hot, then add the oil, onion and red pepper and fry for 2 minutes, until just softened. Turn the heat up, add the chorizo and cook for 3-4 minutes until it has released its oil and is crisp around the edges. The mixture will go a lovely red colour.

Meanwhile, crack the eggs into a large jug and whisk with the milk, a pinch of salt and plenty of black pepper.

Add the garlic and potatoes to the chorizo mixture and fry for another 2 minutes, stirring gently, until just hot through. Add the peas and cook for another minute, until the whole mixture is hot.

Pour in the egg, stir briefly, turn down to a medium heat and scatter the parsley over the top .Fry without stirring, for 1–2 minutes, then carefully lift the edge of the frittata with a spatula to check if it is cooked and golden-brown underneath. If it isn't, cook for another minute then check again.

Place the pan in the oven and bake for 10–12 minutes. When the top is bubbled up and slightly golden use a tea towel to grab the handle and give the pan a gentle shake. If the middle wobbles it needs a little longer. If it's fairly firm, put it aside to cool slightly.

Slide the frittata out of the pan onto a plate. You can serve this hot or cold but make sure to let it cool to room temperature before storing it in a sealable container in the fridge. Cut it into slices and serve with a green salad.
This recipe is from...
Recipes from this episode