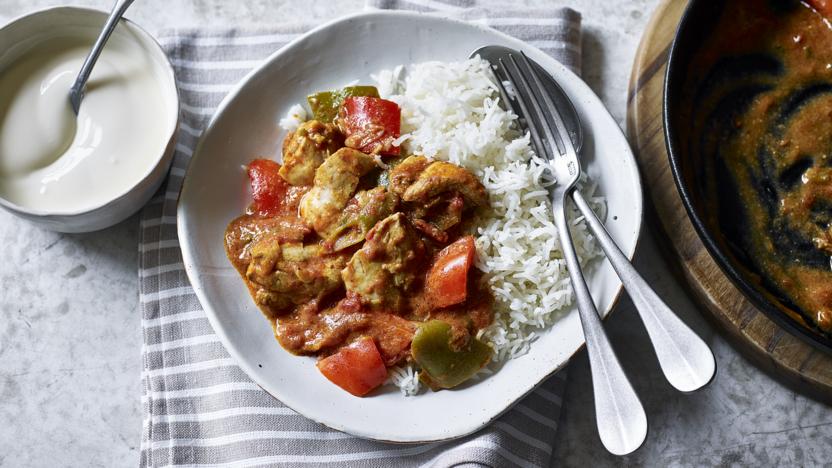 Proof that you can make a delicious curry without onion and garlic! This low-FODMAP chicken curry is quick, simple and full of flavour.


Method
Heat the oil in a large frying pan and add the ginger, green chilli, if using, spring onions and spices. Fry gently for 1 minute, stirring constantly.

Add the chicken pieces and peppers and cook with the spices over a medium heat for 2 minutes, turning, until lightly coated.

Pour the tomatoes into the pan, add the sugar and salt and bring to a simmer.

Cook over a medium heat for 15 minutes, or until the tomatoes are very thick and the chicken is tender, stirring regularly. Add a splash of water to the pan if the sauce begins to stick.

Stir in the yoghurt, warm through for a few seconds and serve with freshly cooked basmati rice and more yoghurt.
Recipe Tips
Avoid the white part of the spring onions if you are in the restriction phase of the low-FODMAP diet.
A small amount of spice can often be tolerated by IBS sufferers, but omit the chillies from the recipe if you know them to be a trigger food.
Use a non-dairy or lactose-free yoghurt, ideally a good-quality coconut milk yoghurt, but check to see whether is it thickened or stabilised with pectin, which could be a trigger food in larger quantities.