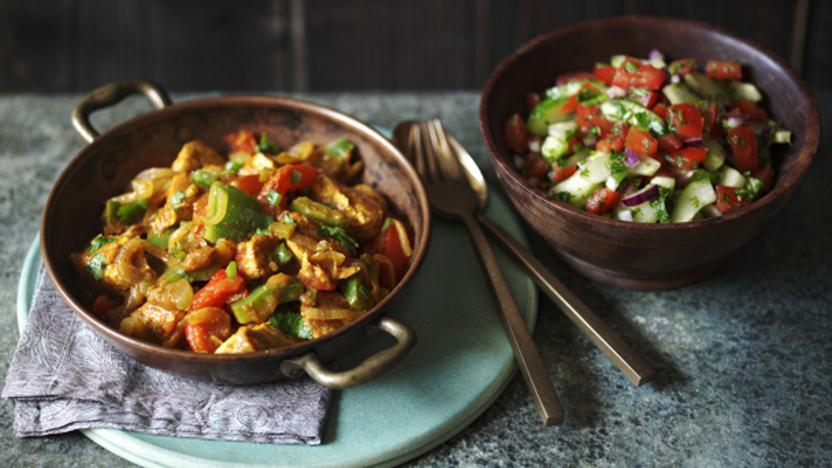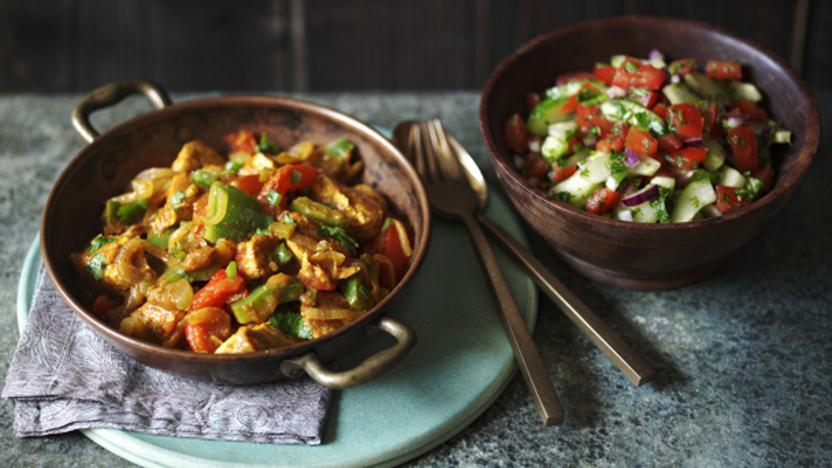 Marinating the meat helps your get ahead with this jalfrezi-style healthy chicken curry. It's packed with veggies and served with a fresh salad. Serve with brown basmati rice.

This meal provides 164 kcal, 21g protein, 13.7g carbohydrate (of which 11g sugars), 2.9g fat (of which 0.5g saturates), 4.1g fibre and 1.4g salt per portion.
Ingredients
For the curry
For the cachumba salad
To serve
Method
Combine the chicken with the marinade ingredients in a mixing bowl. Cover with cling film and transfer to the fridge for two hours, or overnight if possible.

Heat the oil in a large frying pan until hot. Add the sliced onions and peppers and fry for 5-6 minutes, stirring occasionally until softened. Add three-quarters of the chilli and cook for two minutes then add the marinated chicken and the marinade. Cook for 3-4 minutes

Add the tomato purée to the chicken, stir through to mix and cook for two minutes. Add the stock, bring to the boil then cook for 10 minutes to cook the chicken through.

Meanwhile for the cachumba salad, combine all of the ingredients in a bowl. Season to taste with salt and set aside.

Taste the chicken and adjust the seasoning as necessary. Add the tomatoes, stir through and cook for 5-10 minutes, or until the sauce is thickened and flavoursome and the tomatoes softened. Remove from the heat. Garnish with chopped coriander and the remaining chopped chilli and serve with rice.
Recipe Tips
Always use free range chicken - as well as it tasting better and being kinder to the chickens, it's naturally lower in fat than the meat on more intensively farmed birds.