Low-fat chicken and mushroom pie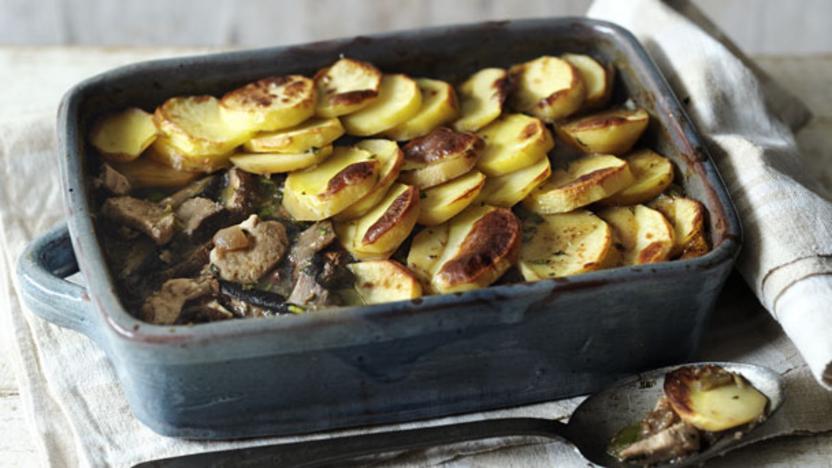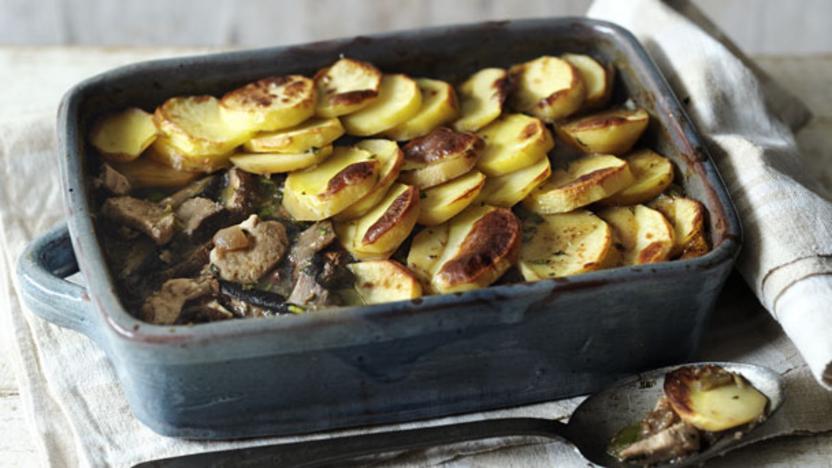 Blending mushrooms for the filling gives a lovely creamy consistency without adding any extra fat and the sliced potato topping is healthier than buttery pastry.

510 calories per portion
Method
Preheat the oven to 200C/400F/Gas 6. Put the Portobello mushrooms on a baking tray and season with salt and pepper. Roast for 20 minutes, or until tender, and then set aside to cool. (Now is also a good time to soak the porcini mushrooms in the boiling water.)

Place the chicken stock in a small pan and bring to the boil. Add the button mushrooms and the bay leaf and cook for 6-8 minutes, or until tender.

While the mushrooms are cooking, prepare the topping. Place the potatoes in a large saucepan and add enough hot water to cover the potatoes. Bring to the boil, then cook over a medium heat for 5-7 minutes, or until the potatoes are turning tender but aren't cooked through. Drain and leave to cool, then slice thinly.

Add the olive oil to a large frying pan over a medium heat. Add the onion and fry for 5-6 minutes, or until softened. Add the leek and continue to cook for 7-8 minutes, or until soft.

Once the button mushrooms are soft and tender, remove the bay leaf and place them in a blender along with the stock. Add half of the dried mushroom soaking liquor (being careful not to get any bits of grit from the dried mushrooms) and blend until smooth.

Once the leek is softened, put the chicken into the pan and stir to mix. Cook for two minutes and then sprinkle in the flour. Stir so that everything is coated and cook for three minutes. Season with pepper and a pinch of salt.

Pour the mushroom and stock mixture from the blender into the pan with the chicken. Add the soaked mushrooms (discarding the remaining liquor as this may be gritty). Mix well. Turn off the heat, and add the tarragon. Slice the cooked Portabello mushrooms and add to the mix.

Pour the pie filling into a pie dish (measuring about 18x24cm/7x9½in) and spread out evenly. Top with overlapping slices of the sliced potatoes.

Place into the preheated oven and bake for 35-40 minutes, or until the potato topping is crisp, golden-brown and cooked through and the filling is bubbling. Steam the beans to your liking and serve with the pie.
Recipe Tips
Tim Maddams votes you go for free-range chicken. He says it tastes better and is naturally lower in fat than the meat on more intensively farmed birds.