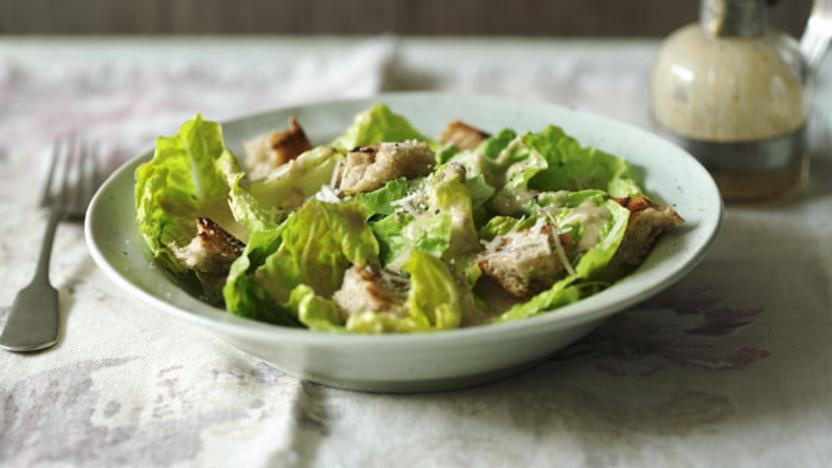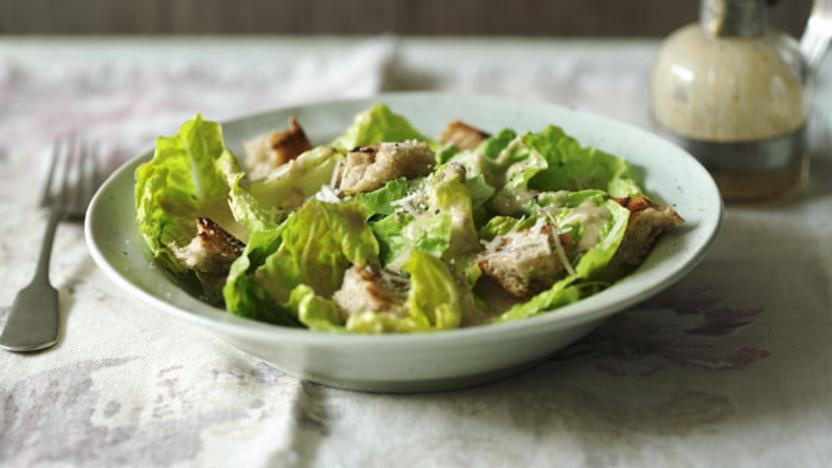 This easy Caesar salad recipe uses all the ingredients you'd expect to find, but varies the method to make it lighter.
Ingredients
For the dressing
Method
Heat a griddle pan over a high heat until smoking. Drizzle the bread with a little oil and then rub with the garlic clove.

Griddle the bread for 30-40 seconds on each side, or until golden-brown and crisp with deep char-grill lines. Leave to cool slightly and then tear into bite-sized pieces.

Meanwhile make the dressing. Put the egg yolk, anchovies, a tablespoon of the reserved anchovy oil, the garlic, lemon zest and juice, mustard and parmesan into a small food processor along with a pinch or two of pepper. Blend to a paste. (Alternatively, chop everything really fine, and mash into a paste in a mixing bowl until as smooth as possible.)

With the motor running gradually trickle in the oil, a few drops at a time, until completely incorporated. If the dressing is too thick, add a little warm water (about two tablespoons) and blend again. Season to taste with black pepper.

Put the lettuce into a serving bowl. Pour over some of the dressing and toss to mix and coat. Scatter over the croûtons and the grated parmesan and serve.
Recipe Tips
This salad is a great base for a simple piece of grilled chicken, cut into slices, or a handful or roasted vegetables.