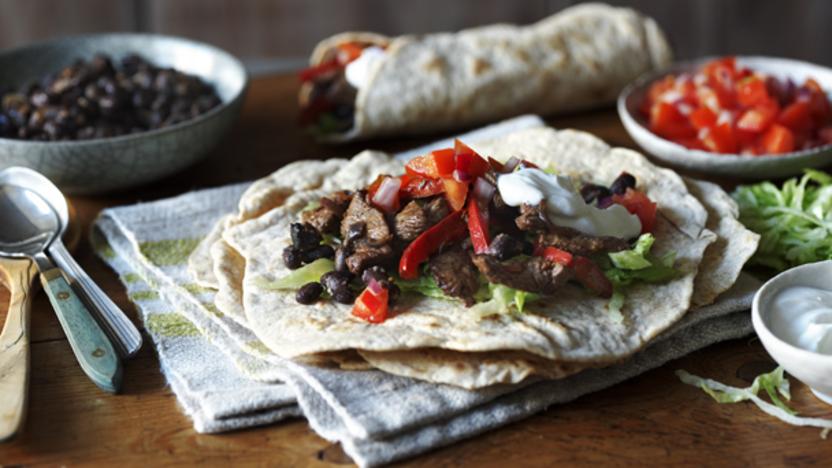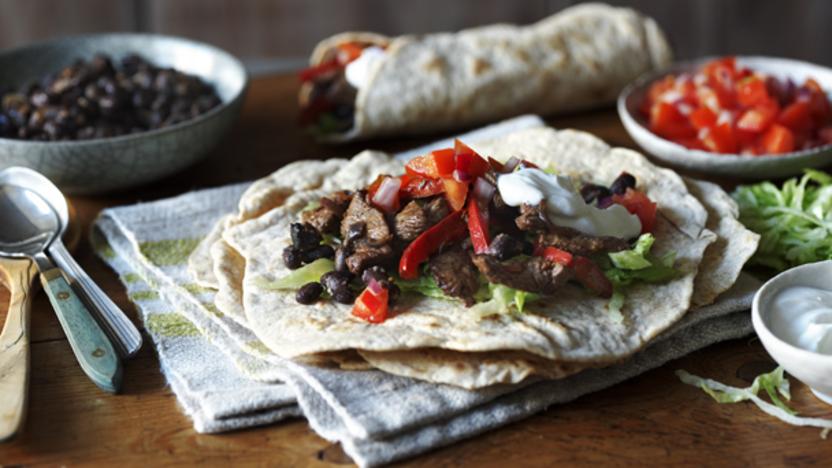 This healthy beef burrito recipe cuts out most of the fat associated with Mexican food, but there's no compromise on flavour.

This meal provides 434 kcal, 36g protein, 53g carbohydrate (of which 11g sugars), 9g fat (of which 2.7g saturates), 11.5g fibre and 1.1g salt per portion.
Ingredients
For the tortillas
For the beef
For the lime yoghurt
For the beans
For the salsa
To serve
Method
For the tortillas, put the flours into a mixing bowl. Add a pinch of salt, a drizzle of oil and two tablespoons of water. Mix with your hands to bring the mixture together to form a dough. Add a little more water if the mixture is too dry. Knead in the bowl for a minute until smooth and elastic then set aside to rest for 5-10 minutes.

Dust a work surface with a little flour. Divide the dough into four and roll out each piece into a very thin circle using a floured rolling pin.

Heat a heavy-based frying pan over a medium/high heat and cook the tortillas individually in the dry pan for 2-3 minutes on each side, or until lightly golden-brown, bubbling and cooked through. Transfer to a plate and wrap in a clean tea towel while you cook the remaining tortillas.

For the beef, mix all the beef ingredients together in a bowl and stir to evenly coat the steak in the oil and spices. Leave to marinate while you prepare the lime yoghurt. (This can be done in advance and left for up to a couple of hours.)

For the lime yoghurt, mix the lime juice and yoghurt together until combined. Set aside until ready to use.

In a hot frying pan, cook the beef mixture with a pinch of salt over a high heat for 3-4 minutes, or until the beef is browned all over. Remove from the pan and rest on a plate while you cook the black beans.

For the beans, add the oil to the pan you cooked the steak in. Add the garlic and cumin seeds and cook over a medium heat for two minutes until aromatic. Add the black beans and stir to mix well. Crush them lightly with the back of a wooden spoon as you heat them through. Once hot, remove from the heat and set aside.

For the salsa, mix all the salsa ingredients together in a small bowl.

To serve, spread some of the beans over each tortilla and top with a little of the beef. Spoon over a little salsa, to taste, and drizzle a spoonful of lime yoghurt over. Add a scattering of lettuce, roll up and serve immediately.
Recipe Tips
If you have time, the meat can be left to marinate for a few hours for extra flavour.
This recipe would work well as a healthy barbecue dish - simply cook the steaks whole and slice before serving.