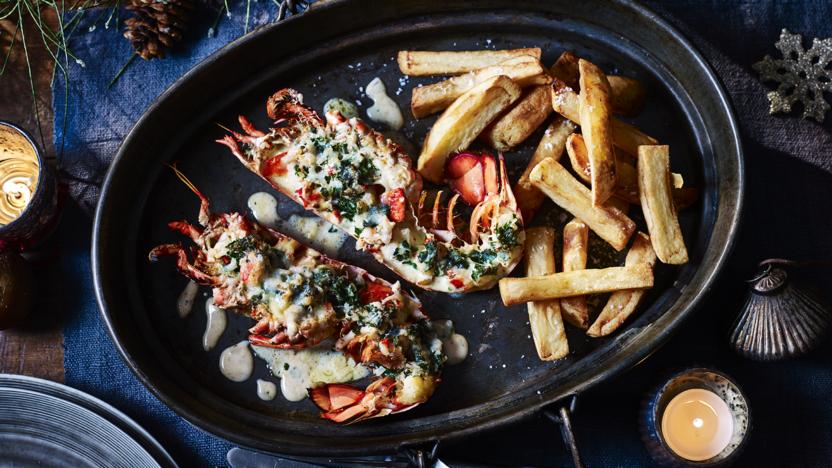 Such a treat on Christmas Eve or for any deluxe special occasion. The chips are gilding the lily, but why not?
Ingredients
For the sauce
For the chips
Method
Preheat the grill to a medium heat.

Cut the lobster in half and remove the meat from the claws, tail and head. Set aside. Chop the meat into pieces and place back into the shell.

To make the sauce, place the butter into a pan over a medium heat. Add the shallots and cook until softened. Pour in the stock, wine and double cream and bring to the boil. Reduce by half, stirring occationally. Add the mustard, herbs, lemon juice and season to taste.

Spoon the sauce over the lobster meat. Sprinkle with Parmesan. Grill for 3–4 minutes until golden brown.

To make the chips, heat the vegetable oil in a deep-fat fryer to 140C (CAUTION: Hot oil is very dangerous. Do not leave unattended). Carefully drop in the chips and cook for 5–6 minutes or until just tender, without colour. Remove using a metal slotted spoon. Turn the heat to 190C. Place the chips back into the hot oil and fry for 3–4 minutes or until golden and cooked through. Remove using a metal slotted spoon and drain on kitchen paper. Season to taste and serve alongside the lobster.
Recipe Tips
This is a great way to treat a frozen lobster as the sauce counteracts any dryness.