Lobster and langoustine with champagne sauce, skinny fries and green beans
Ingredients
For the lobster
For the fries and green beans
Method
Preheat the grill to high.

For the lobster, slice the lobster in half and remove the meat from the claws and tail. Set aside with the langoustines. Remove any head matter and discard, reserving the shells.

Place the fish stock into a pan and bring to the boil. Cook for 10-15 minutes, or until the liquid is reduced by half, then add the cream and simmer for a further 10-15 minutes, or until reduced again by half.

Add the champagne and cook for 2-3 minutes, stirring well, then stir in the caviar, lobster and langoustines to heat through.

Meanwhile, melt half of the butter in a frying pan and add the mushrooms. Fry for 2-3 minutes, or until just softened. Season, to taste, with salt and freshly ground black pepper.

Heat the remaining butter in a clean frying pan, then add the spinach and cook for 1-2 minutes, or until wilted.

Spoon a little spinach into the bottom of each lobster shell, followed by the mushrooms, finishing with the lobster and langoustine mixture. Sprinkle over the breadcrumbs and grated Gruyère. Place on a grill tray set under the grill and cook for 2-3 minutes, or until the topping is golden-brown and bubbling.

For the vegetables, heat a deep-fat fryer to 190C/375F. Alternatively, half-fill a deep, thick-based pan with the vegetable oil and heat until a cube of bread dropped in sizzles and turns golden-brown in 30 seconds (CAUTION: hot oil can be dangerous. Do not leave unattended).

Fry the potato strips in the oil for 4-5 minutes, or until golden-brown and crisp. Remove with a slotted spoon and drain on kitchen paper, then season with salt.

Bring a saucepan of salted water to the boil, add the beans and cook for 3-4 minutes, or until tender. Drain, return to the pan and mix with the butter and season with salt and freshly ground black pepper.

To serve, place the lobster halves on two serving plates, and place the fries and green beans alongside.
This recipe is from...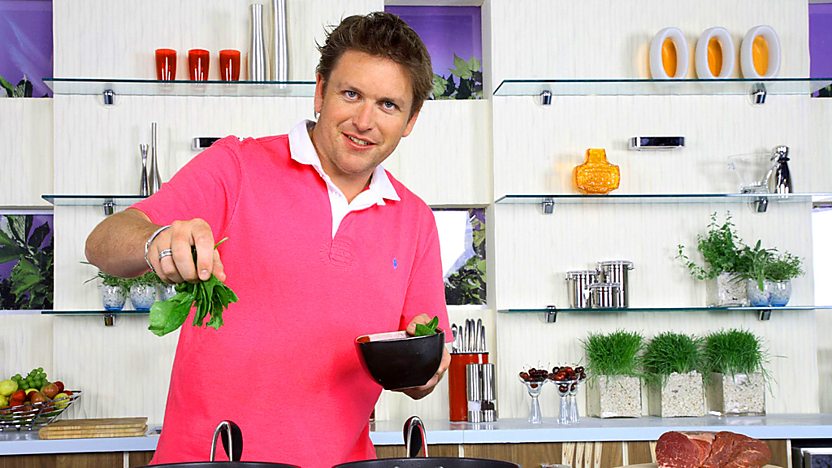 2007-16
211. 06/12/2015