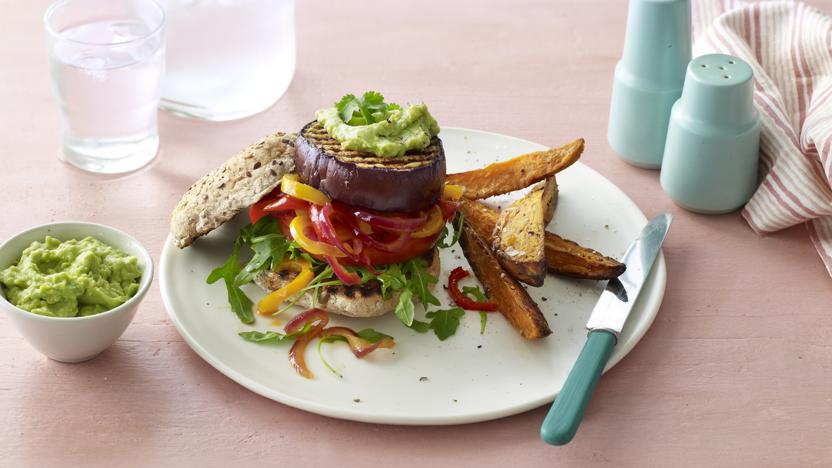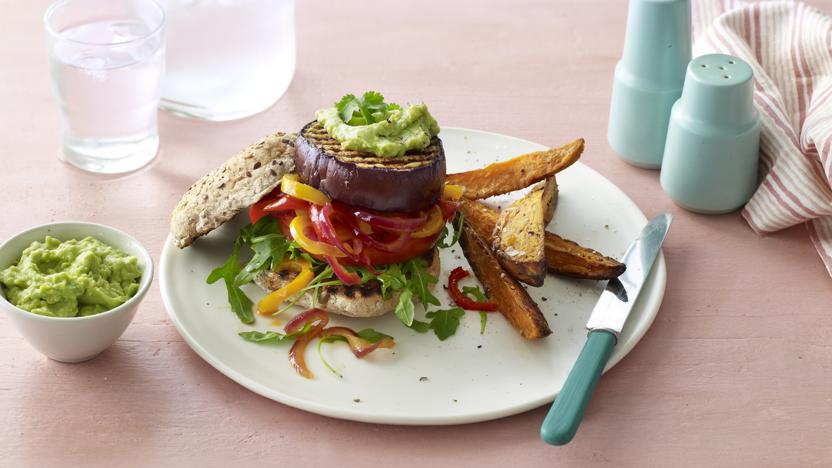 Delicious and low-calorie vegan burgers with a zesty avocado vegan mayo. Perfect for a barbecue.

These aubergine burgers can form part of a low-calorie diet of 1200–1500 calories a day. Each serving provides 433 kcal, 9g protein, 64g carbohydrates (of which 17g sugars), 14g fat (of which 3.5g saturates), 11g fibre and 0.7g salt.
Ingredients
For the avocado mayo
Method
Preheat a griddle pan over a medium heat.

Meanwhile, to make the avocado mayo, place all the ingredients in a small bowl and season well. Mash with a fork until as smooth as possible and set aside.

Toast the rolls cut-side down on the griddle pan for 1 minute and set aside. Brush the aubergine slices on both sides with half the olive oil and sprinkle with the cumin and coriander. Place on the griddle pan and cook for 4–5 minutes on each side, or until softened and lightly charred.

Meanwhile, heat the remaining oil in a large, non-stick frying pan and stir-fry the peppers and red onion for 8–10 minutes, or until well softened and lightly browned. Stir in the vinegar and sugar and season. Cook for a few seconds more, stirring constantly.

Place the four bread roll bases between four plates and top each with a small handful of rocket, then a slice of tomato. Divide the pepper mixture between the rolls and top with the aubergine. Spoon the avocado mayo on top, garnish with a few coriander sprigs, if using, and cover with the roll tops. Secure with a wooden skewer if you like. Serve immediately.