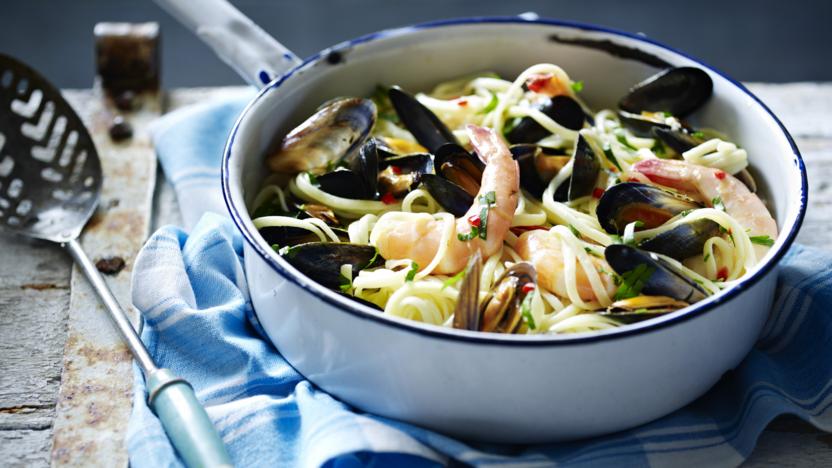 This easy seafood linguine makes a great Friday night supper. Everywhere you go along the coastline of Italy it will be offered to you in some form or another, perhaps with cozze e vongole (mussels and clams), patelle (limpets) and moscardini (baby octopus), scallops, squid, and/or a combination of all of them.
Method
Clean the mussels by scrubbing them in cold water, and removing the beards. If any remain open after tapping them against the side of the work surface, discard them. Peel the prawns, removing the heads but leaving the tails intact.

Heat the olive oil in a large lidded saucepan, and add the garlic and chilli. After a minute or two, add the mussels and the wine. Cover with the lid and continue cooking for 1-2 minutes, or until the mussels open. If any mussels remain closed at the end of cooking, discard them.

Add the prawns and cook for a further 4–5 minutes, then squeeze in the lemon juice. Remove the pan from the heat and add the roughly chopped parsley. Season to taste with salt and freshly ground black pepper.

Meanwhile, cook the linguine in lightly salted boiling water for 7-8 minutes, or until al dente. Add the pasta to the pan with the shellfish sauce, mix together well and serve immediately.
This recipe is from...
Recipes from this episode