Preparation time
30 mins to 1 hour
Cooking time
30 mins to 1 hour
Making your own pasta is worth it for this luxurious dish that makes the most of fresh crab.
Preparation time
30 mins to 1 hour
Cooking time
30 mins to 1 hour
Ingredients
For the linguine
400g/14oz '00' flour, plus extra for dusting
5 free-range eggs, lightly beaten
pinch salt
2 tbsp extra virgin olive oil
1–2 tbsp cold water
For the crab sauce
Method
For the linguine, put the flour on a work surface, make a well in the centre and add the beaten eggs, salt and oil. Using your fingertips in a circular motion, slowly incorporate the flour into the egg mixture, adding a little water if necessary, to form a dough.

Knead for 5 minutes, until the dough is elastic and springs back when gently pressed. Cover with cling film and allow to rest for at least 30 minutes in the fridge.

Roll the pasta dough out in 4-6 batches using a pasta machine working from the thickest to the penultimate setting, allowing the sheets to dry for 10 minutes uncut. Pass the rolled sheets through the linguine cutter on the machine and hang the linguine over a coat hanger or similar to air while you cook the sauce.

For the sauce, put the leek, parsley sprigs, 300ml/10fl oz of the wine, 5 whole garlic cloves in a large stock pot with enough water to cover the crabs. Bring to the boil, add the crabs and cook for about 6 minutes.

Remove the crabs from the hot water and place immediately into iced water. When the crabs are cold, remove the meat from each. Open the body, remove all the brown meat and set aside. Remove the white meat from the skinny legs but leave the claws. Mix the white and brown meat together. Crack the claws but leave whole. Place the claws in a baking dish, pour over the pesto and leave to marinate. Clean out the crab shells.

Preheat the oven to 200C/180C Fan/Gas 6.

Heat the olive oil in a large saucepan, add the chopped garlic, chilli, brown and white crab meat, courgettes and chopped parsley. Fry for 1 minute then add the remaining wine. When the sauce has bubbled down and thickened, remove from the stove.

Bake the marinated crab claws in the oven for 2 minutes to heat through.

Meanwhile, bring a large pan of salted water to the boil and cook the fresh linguine for 2–3 minutes, drain and add to the sauce. Mix together and serve immediately.

Present the dish with the linguine and sauce in a warmed pasta plate with a crab claw on top.
Recipe Tips
You can always buy whole cooked crabs and skip step 4. You can also use dried linguine if you're short of time - just cook it according to the packet instructions.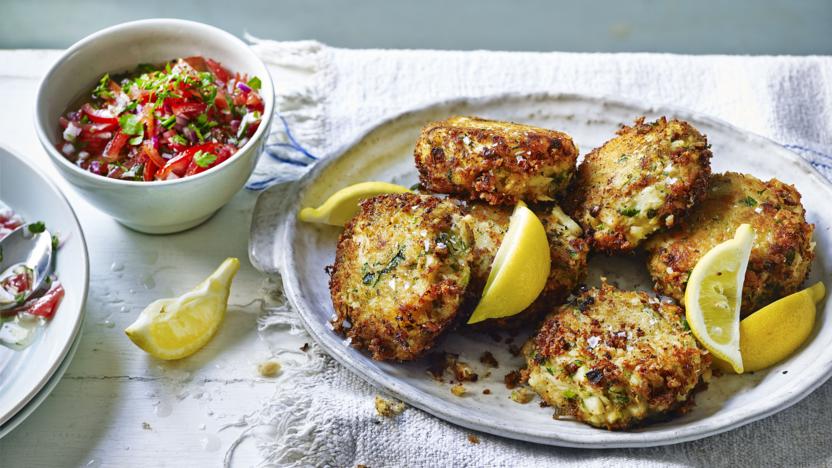 See more crab recipes (106)