Lighter lemony pasta and spinach bake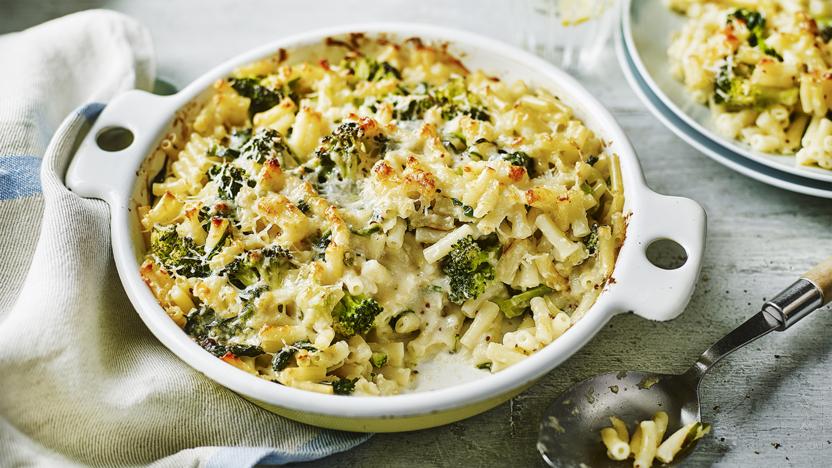 Put together healthy veg with a yummy mustard and cheese sauce and you've got a great pasta bake.

Each serving provides 459 kcal, 24g protein, 63g carbohydrate (of which 6.5g sugars), 11g fat (of which 5.5g saturates), 6g fibre and 0.6g salt.
Method
Preheat the oven to 200C/180C Fan/Gas 6

Cook the macaroni in boiling water for 6 minutes. Add the broccoli and cook for another 2 minutes. Turn off the heat, add the spinach and leave to stand with the lid on for 2 minutes. Drain well and set aside

Heat the oil in a heavy-based frying pan. Fry the spring onions for 2 minutes. Add the garlic and fry for another 2 minutes. Add the flour and cook, stirring all the time, for 1-2 minutes. Slowly pour in the milk, add the bay leaves and season with salt and pepper. Continue simmering for 2-3 minutes, until thickened. Remove the bay leaves.

Stir in the mustard, lemon zest and three quarters of the Parmesan, then season well.

Tip the pasta and broccoli into a shallow baking dish. Pour over the sauce and mix well. Sprinkle over the remaining cheese and bake for 15-20 minutes.

Serve with the dressed salad leaves.
Recipe Tips
To find out more about type 2 diabetes and get information on how to reduce your risk of this mostly preventable disease, read our article.