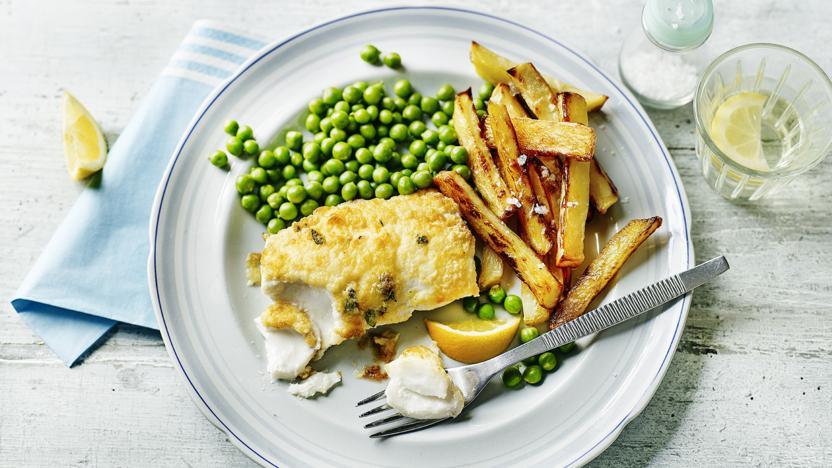 The trick here is to use a batter made from egg that is oven-baked with the chips for a lighter take on this take-away favourite.

Each serving provides 419 kcal, 40g protein, 47g carbohydrate (of which 4g sugars), 6g fat (of which 1.7g saturates), 9g fibre and 0.5g salt.
Method
Preheat the oven to 220C/200C Fan/Gas 7. Line a baking tray with baking paper.

Boil the chips for 3-4 minutes, then drain well. Pour 1 teaspoon of oil into a baking tray and heat in the oven. Add the chips in a single layer and bake for 20 minutes

Meanwhile, whisk the egg yolk, lemon zest, lemon thyme, salt and pepper together in a bowl. In a separate clean glass bowl, whisk the egg white until soft peaks form when the whisk is removed. Fold the yolk into the white.

Dip the fish into the egg mixture, then transfer to the lined baking tray and bake for 15-20 minutes, or until cooked and browned.

Boil the peas in water for 2-3 minutes. Serve the fish and chips with the peas and lemon wedges.
Recipe Tips
To find out more about type 2 diabetes and get information on how to reduce your risk of this mostly preventable disease, read our article.