Lentil, bean and kale salad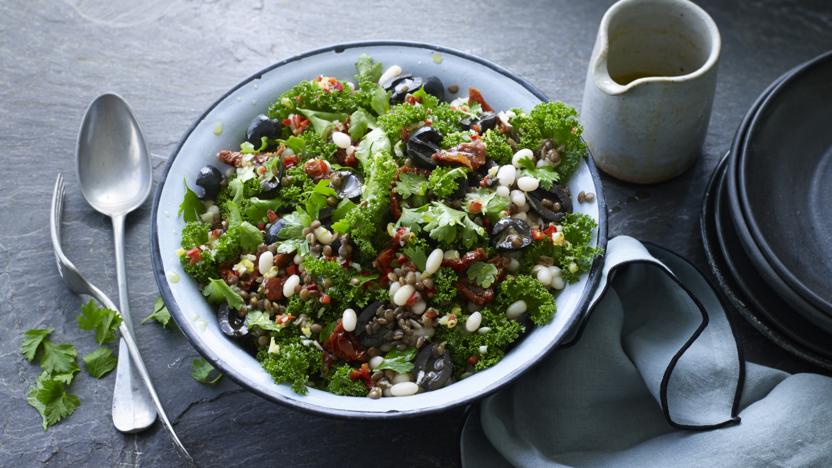 A simple, summery salad made with store cupboard ingredients. You can always swap the dried ingredients for tinned or jarred ingredients for fresh, if you have them.

Ingredients
100g/3½oz dried brown, green or red lentils (or use tinned)
100g/3½oz dried black-eyed or haricot beans
8 sun-dried tomatoes, roughly chopped
handful green or black olives from a jar, roughly chopped
handful fresh flatleaf parsley, torn (or other soft herb, such as mint)
80g/3oz kale, stalks removed and chopped (or other leafy greens, such as spinach or spring greens)
For the dressing
Method
Soak the lentils and beans overnight, or for at least 8 hours. Rinse the lentils and beans and put into a saucepan of cold water. Bring to the boil and cook for 10 minutes, removing any scum that comes to the surface. Reduce to a simmer and cook for 30 minutes, or until tender. Drain and rinse. (Skip this step if using tinned lentils, just warm them through in a saucepan with a splash of water.)

To make the dressing, put all the ingredients into a lidded jar and shake vigorously until combined. Taste and adjust with more lemon, if needed. Put into a saucepan and warm over a low heat.

Toss the beans and lentils with the remaining salad ingredients. Drizzle over the dressing to taste and serve.
This recipe is from...
Recipes from this episode