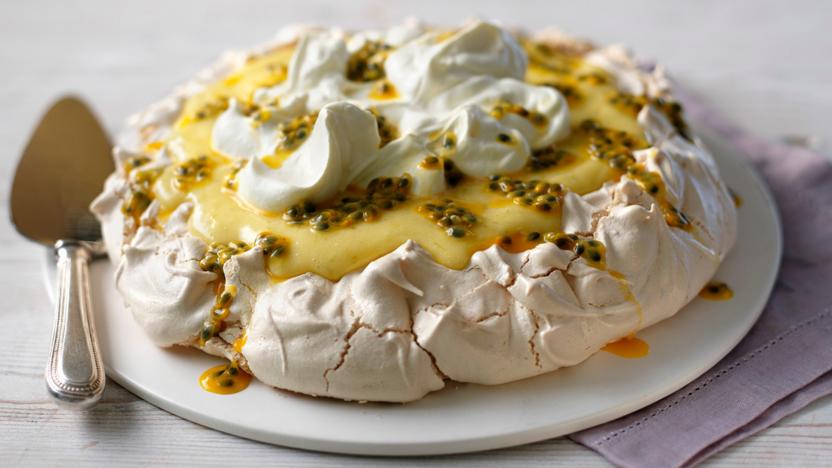 End your meal on a high note with this citrus centrepiece topped with tangy passion fruit.
Ingredients
For the meringue
For the filling
Method
Preheat the oven to 180C/350F/Gas 4. Line a baking tray with greaseproof paper.

For the meringue, whisk the sugar, a tablespoon at a time, into the stiffened egg whites, until the mixture is smooth and glossy.

Gently fold in the sherry vinegar.

Spoon the meringue mixture onto the prepared baking tray to form a circle about 20cm/8in in diameter. Spoon the remaining meringue in dollops around the edge of the meringue, forming swirls and peaks as you go.

Transfer the meringue to the oven and immediately reduce the temperature to 150C/300F/Gas 2. Bake for 45-50 minutes, or until the meringue has hardened on the outside, but is still soft and chewy in the middle.

Meanwhile, for the filling, place the lemon juice and zest, lime juice and zest, caster sugar, eggs, egg yolks and 75g/2¾oz of the butter into a heavy-based pan. Whisk over a medium heat until the sugar has dissolved and the mixture is smooth and thick enough to coat the back of a spoon.

Add the remaining butter, stirring continuously. Continue to stir until all of the butter has melted and the mixture has thickened considerably.

Remove the mixture from the heat and whisk a little, then set aside until completely cool.

To serve, place the meringue into the centre of a serving platter. Spoon the lemon and lime filling mixture into the centre, then top with the whipped cream and passion fruit pulp.
Recipe Tips
Choose wrinkled passion fruit as the ones that appear dried-out are often the ripest.