Lemon Swiss roll with passionfruit cream and lemon drizzle glaze
Swiss rolls are easier to make than you may think, but you need to have courage when rolling. This one, filled with passionfruit cream and garnished with berries, is sure to impress.

Ingredients
For the sponge
For the passionfruit cream
To garnish
For the glaze
Method
Preheat the oven to 190C/375F/Gas 5. Line a 23x33cm/9x13in Swiss roll tin with baking parchment.

Place the eggs, sugar and vanilla seeds in a large bowl and whisk until very light, fluffy and thickened. Sift the flour over the mixture, add the lemon zest and gently fold in.

Pour the mixture into the lined tin and use a spatula to smooth the surface. Bake the sponge for 10-12 minutes, or until just firm to the touch.

Place a piece of baking parchment that is slightly bigger than the Swiss roll tin on the work surface and dust it with caster sugar. Carefully flip the hot sponge over onto the baking parchment and peel off the parchment from the bottom of the sponge. Set aside to cool slightly.

For the garnish, place the caster sugar and 100ml/3½fl oz water in a saucepan and bring to the boil. When the sugar is dissolved, add the sliced lemon and cook over a low heat for about 20 minutes, or until the lemons are soft. Leave to cool.

For the passionfruit cream, in a large bowl, whip the double cream with the vanilla extract until soft peaks form when the whisk is removed. Stir in the cream cheese.

To assemble the Swiss roll, spread the whipped cream and cream cheese over the top of the sponge and then spoon over the passionfruit seeds. Take one of the short edges, then using the parchment paper underneath to start it off, roll up the sponge quite tightly, making sure the filling stays inside. Roll the sponge off the parchment.

For the glaze, add all the ingredient to a small pan. Heat the mixture until the sugar dissolves.

Pour the syrup evenly over the Swiss roll, dust with icing sugar and garnish with the berries and confit lemon slices.
This recipe is from...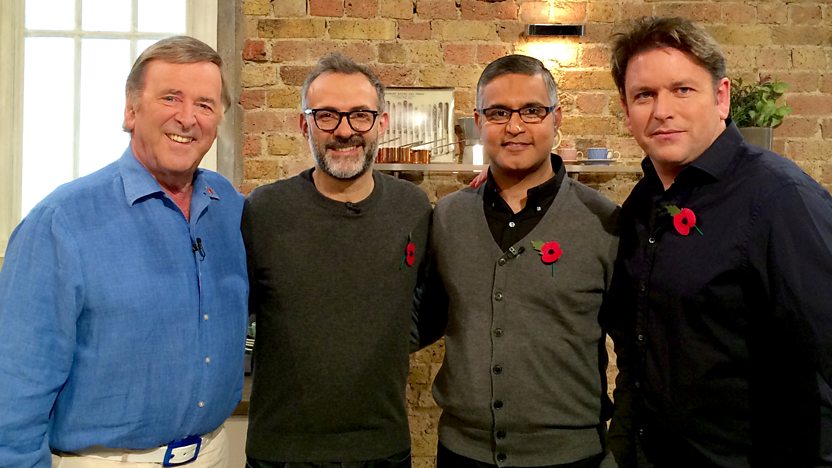 Saturday Kitchen
08/11/2014