Lemon sponge cake with confit vanilla lemons
If you're going to make the confit vanilla lemons for this recipe, you'll need to get ahead by leaving them to steep the night before you serve the cake.



Ingredients
For the confit vanilla lemons
For the lemon sponge cake
For the mascarpone and Greek yoghurt cream
Method
To make the confit vanilla lemons, add 100ml/3½fl oz of water, the sugar and the vanilla to a saucepan over medium-high heat. Bring the mixture to a simmer and cook, swirling the pan occasionally, until the sugar has completely dissolved. Cool until the liquid is slightly warmer than room temperature.

Put the lemons in a non-reactive bowl topped with the syrup. Cover and leave overnight.

To make the lemon sponge cake, preheat the oven to 180C/160C Fan/Gas 4. Grease a non-stick 24cm/10in round cake tin with the salted butter and dust it with a little caster sugar.

Whisk the egg whites in a large bowl, adding a little sugar at a time to make a soft meringue-like mixture.

In a separate bowl, whisk the yolks until pale, then fold in the flour and lemon zest.

Fold the meringue into the egg yolk mixture and tip into the prepared non-stick tin. Bake for 25 minutes, or until springy to the touch and a skewer comes out clean (or with a few dry crumbs). Cool before serving.

Mix the lemon juice with some of the lemon sugar syrup from the confit lemons in a small bowl. Brush the lemon liquid over the warm cake.

To make the mascarpone and yoghurt cream, mix the yoghurt with the mascarpone in a small bowl and add the lemon juice.

To serve, slice the sponge cake. Arrange each slice on a plate and dust with icing sugar. Spoon some yoghurt and mascarpone on the side. Garnish with the confit lemons, some mint sprigs and a drizzle of limoncello, if you like.
This recipe is from...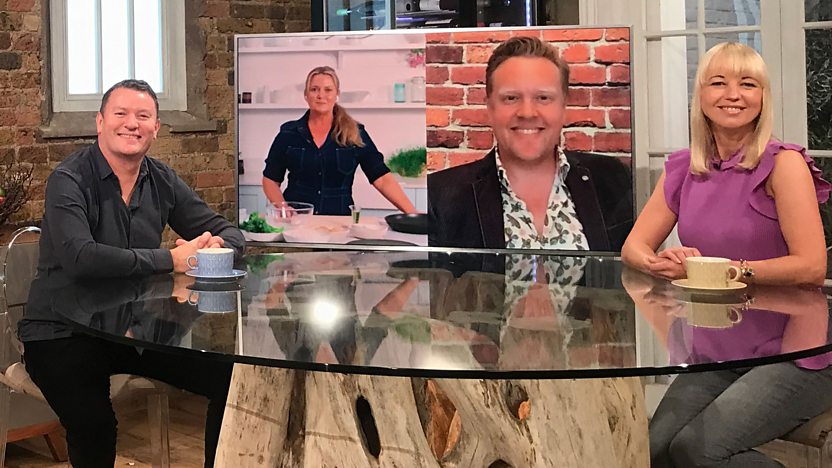 Saturday Kitchen
17/10/2020