Lemon posset with meringue shards and gingerbread
Creamy, smooth lemon posset is a Great British favourite. Try this version, topped with spicy gingerbread crumbs.



Ingredients
For the lemon posset
For the meringue shards
For the Jamaican gingerbread
To serve
Method
For the lemon posset, slowly bring the double cream and sugar to the boil in a large saucepan over a low heat, stirring well to dissolve the sugar in the cream. Boil for 3 minutes, then remove from the heat and set aside to cool.

Once the cream mixture has cooled, whisk in the lemon juice and zest. Pour the posset mixture into 6 glass serving bowls and chill in the fridge for at least 3 hours.

For the meringue shards, preheat the oven to 65C/50C Fan/Gas ¼ (or to the lowest setting on your oven). Line a baking tray with baking paper.

Whisk the egg whites in a large bowl until stiff peaks form when the whisk is removed. Gradually whisk in the sugar a little at a time, until the meringue mixture is glossy.

Spread the meringue in a thin, even layer all over the lined baking tray using a palette knife. Bake in the oven for 3-4 hours, or until completely dried out (this will take less time if your oven temperature is higher than suggested above).

Bend the baking paper to break the meringue into shards. Remove using a palette knife and set aside to cool.

For the gingerbread, increase the oven temperature to 140C/120C Fan/Gas 1. Grease a 30x20cm/12x8in cake tin with butter.

Melt the sugar, butter, syrup and treacle in a small saucepan over a low heat, stirring well to combine.

In a mixing bowl, mix together the oats, flour, ginger, nutmeg, mixed spice and salt until well combined. Add the eggs and milk, pour over the melted syrup mixture, then whisk slowly until well combined.

Pour the gingerbread mixture into the prepared cake tin and bake for 1¼ hours, or until a skewer inserted into the centre of the cake comes out clean.

To serve, crumble a little of the gingerbread on top of each posset, then garnish with a lemon balm sprig. Place the serving dishes onto small plates. Decorate the plates with the meringue shards and a few thin slices of the remaining gingerbread. Place a scoop of lemon sorbet alongside, if desired.
This recipe is from...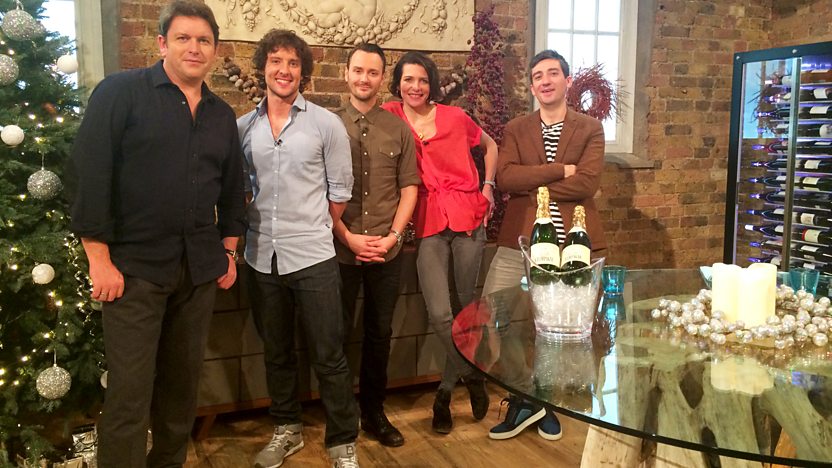 Saturday Kitchen
27/12/2014
Recipes from this episode