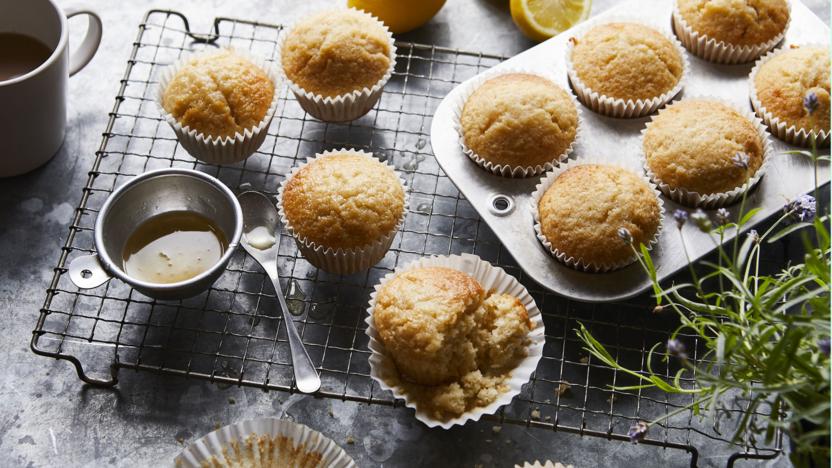 Light, fluffy and extra lemony, these easy lemon muffins have an extra citrus hit thanks to a simple glaze made with lemon juice and sugar.
Method
Preheat the oven to 200C/180C Fan/Gas 6 and line a 12-hole muffin tin with large paper cases.

Put the flour, sugar, almonds, baking powder and lemon zest in a large mixing bowl and mix well.

Beat together the milk, butter, oil, eggs, vanilla and lemon juice in a jug. Pour over the dry ingredients and mix together very sparingly until the dry ingredients are just wet. (overmix and you'll get tough muffins).

Working quickly, divide the mixture between the cases – they should be about three-quarters full. Bake for 15–18 minutes until a skewer comes out clean when poked into the middle of a muffin in the centre of the tin. Quickly use a cocktail stick or skewer to poke holes in each muffin.

Combine the glaze ingredients straight away, then use a pastry brush or a teaspoon to cover the tops of the muffins. Repeat until all the glaze has been used. Lift the muffins onto a wire rack to cool a little, before eating warm or at room temperature.
Recipe Tips
Like most muffins, these are best eaten on the day of baking, but the addition of some oil does help extend their shelf-life without compromising their buttery flavour.
If your muffins get a little stale, you can refresh them by warming them in a low oven for a few minutes.