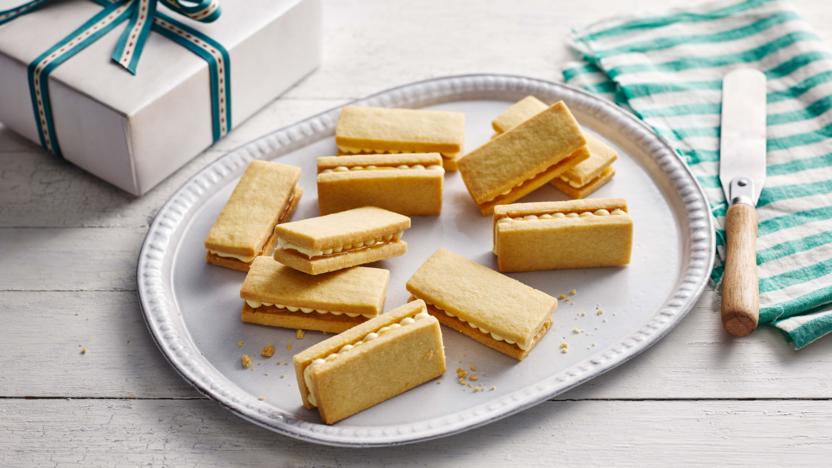 These zesty lemon sandwich biscuits will provide a great pick-me-up for any mid-afternoon slump.
Ingredients
For the biscuits
For the filling
Method
To make the biscuits, use a stand mixer or electric hand-held whisk to cream the butter, sugar and lemon zest together for 2–3 minutes until pale and creamy. Add the egg yolk and beat for another minute to combine. Tip in the flour and custard powder. Mix on a low speed until just combined and the mixture starts to clump. Use your hands to bring the dough together into a ball.

Turn the dough out onto a sheet of baking paper and cover it with another sheet of baking paper. Use a rolling pin to roll the dough into a large rectangle about 3–4 mm thick. Place the sheet of dough in the fridge to chill for 1 hour or until completely firm.

Preheat the oven to 180C/160C Fan/Gas 4 and line two baking trays with baking paper. Remove the dough from the fridge and use a sharp knife to trim away any rough edges. Cut the dough into rectangles about 3x7cm/1¼x2¾in.

Place the biscuits on the prepared trays approximately 2cm/¾in apart, as they will expand while cooking. Bake for 14–16 minutes until the edges just start to brown. Leave to cool on the trays while you make the filling.

To make the filling, beat the butter and icing sugar together on a medium–high speed for 3–5 minutes until very pale and creamy. Add in 2 tablespoons lemon curd and mix briefly to combine.

Spread the remaining lemon curd across half of the biscuits and spoon or pipe the filling on the other halves. Sandwich the biscuits together and serve.