Lemon and tarragon roast chicken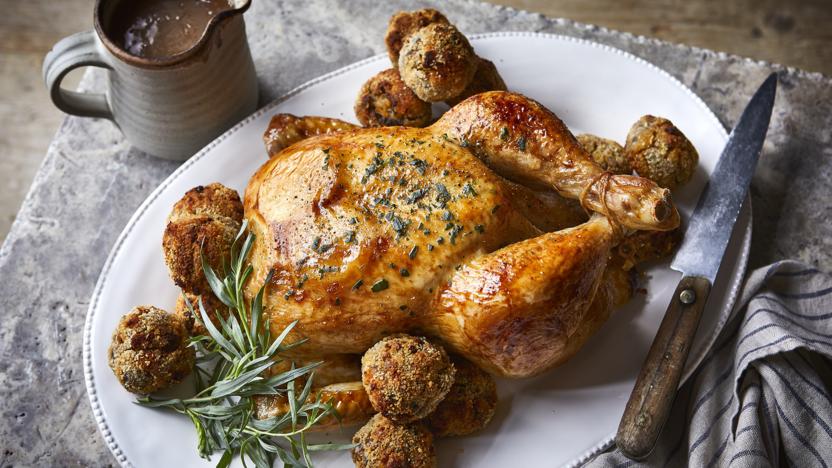 The flavours of lemon and tarragon really enhance a succulent roast chicken. Stretch it to feed eight by serving with sausagemeat stuffing balls studded with chestnuts and apricots.
Ingredients
For the stuffing balls
For the gravy
Method
Preheat the oven to 220C/200C Fan/Gas 7.

Mix the butter, tarragon, lemon zest, garlic, salt and pepper in a bowl. Using your hands, carefully separate the chicken skin from the breast meat, taking care not to break the skin, and smear the butter mixture under the skin all over the chicken breast. Slice the zested lemon and carefully arrange the slices under the skin.

Transfer the chicken to a large roasting tin and season well with salt and pepper – all over and inside the cavity.

Roast the chicken for 20–25 minutes, then reduce the oven temperature to 190C/170C Fan/Gas 5 and roast for a further 1 hour and 20 minutes, basting frequently, until the chicken is cooked through and the skin is crisp and golden. It is cooked when the juices run clear with no trace of pink when a skewer is inserted into the thickest part of the leg. Transfer the chicken to a board to rest, leaving the meat juices in the roasting tin.

While the chicken is in the oven, make the stuffing. Heat the oil in a large non-stick frying pan and fry the onion and garlic for 4–5 minutes until softened. Add the chestnuts, apricots and sage, and season with salt and pepper. Leave to cool.

Once cool, transfer the mixture to a large bowl. Add the sausagemeat, fresh breadcrumbs and egg and mix well to combine. Divide the mixture into 16 and roll into small balls. Roll each stuffing ball in the fine breadcrumbs until evenly coated. Put the stuffing balls in a greased baking tray and bake at 200C/180C/Gas 6 for 25–30 minutes until golden brown and cooked through, turning once halfway through cooking.

While the chicken is resting, make the gravy: place the roasting tin over a low heat. Add the flour and whisk until combined with the roasting juices. Gradually pour in the wine, whisking constantly, and allow to bubble for a few minutes. Add the stock and cook for a further 6–8 minutes, whisking until thickened. Whisk in the gravy granules and redcurrant jelly and season to taste. Continue to simmer until the gravy is the consistency you like. Strain through a sieve into a serving jug.

Carve the chicken and serve with the hot gravy and stuffing balls.
This recipe is from...
Recipes from this episode