Lemon and plum meringue roulade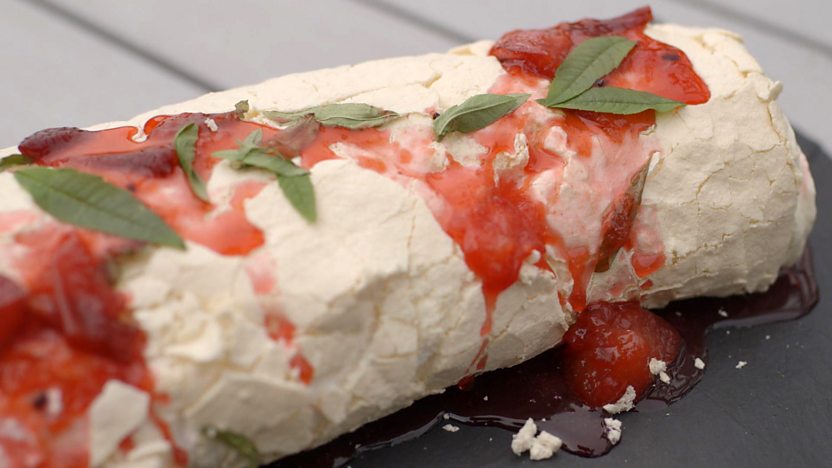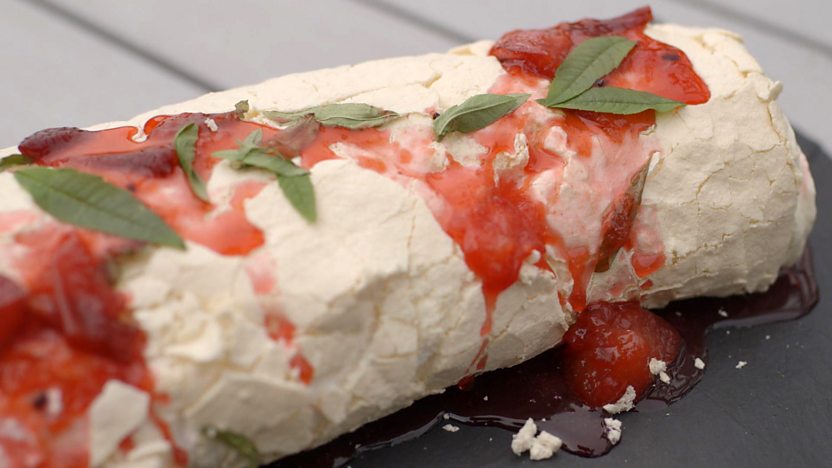 This easy, delicious dessert combines sweet meringue, thick cream and tangy fruit flavours to cut through the richness.
Method
Preheat the oven to 180C/160C Fan/Gas 4.

Grease a 35x25cm/14x10in Swiss roll tin with butter and line with silicone or baking paper.

Whisk the egg whites in a large clean mixing bowl using an electric whisk, or in the bowl of a free-standing food mixer. Set the whisk to a high speed and whisk until soft peaks form when the whisk is removed.

Gradually add 275g/9¾oz of the caster sugar, whisking until all of the sugar has been incorporated and the mixture is smooth and glossy. You should hear the machine dropping down a gear as the mixture reaches the correct consistency, and it should resemble shaving foam.

Spoon the meringue into the prepared tin and smooth into an even layer using a palette knife. Sprinkle over the lemon verbena leaves.

Bake for 7-8 minutes, or until golden-brown on top, then reduce the oven temperature to 170C/150C Fan/Gas 3 and bake for a further 8-10 minutes, or until crisp.

Remove the meringue from the oven and turn it out of the tin onto a clean tea towel. Peel the paper from the base of the meringue and set aside to cool.

Meanwhile, place the plums, 100g/3½oz of the sugar and 100ml/3½fl oz water into a saucepan and bring the mixture to the boil. Reduce the heat until the mixture is simmering, then simmer for 8-10 minutes, or until the plums have softened but still retain their shape.

Whisk the double cream in a large bowl until very soft peaks form when the whisk is removed. Gently whisk in the remaining sugar, then fold in the lemon curd.

Spread the lemon cream mixture on top of the cooled meringue all the way to the edges, leaving a 1cm/½in gap along one of the long edges. Spoon three-quarters of the cooked plums over the top.

Starting at the long end with the border, roll up the meringue using the tea towel to help you.

Carefully roll the roulade off the tea towel and onto a serving platter. Spoon the remaining plums around the roulade and garnish with the lemon verbena sprigs.
Recipe Tips
Make sure your bowl and whisk are very clean, free of grease and completely dry, as any water or grease will affect the outcome of the meringue.