Lemon and lime chicken with egg-fried rice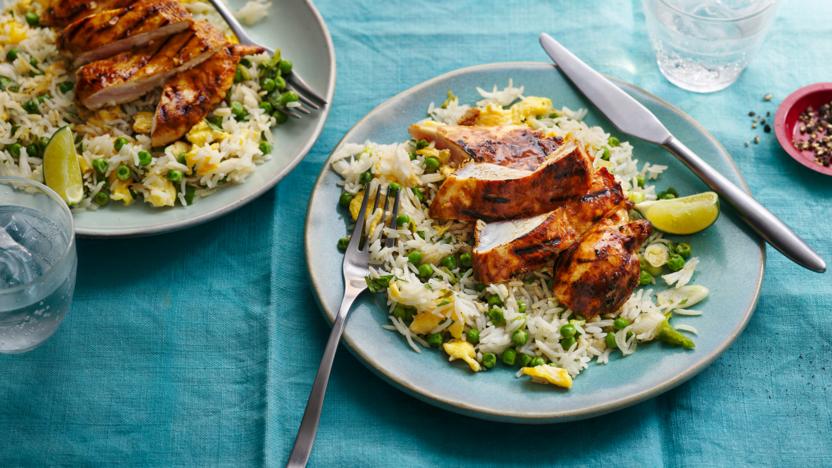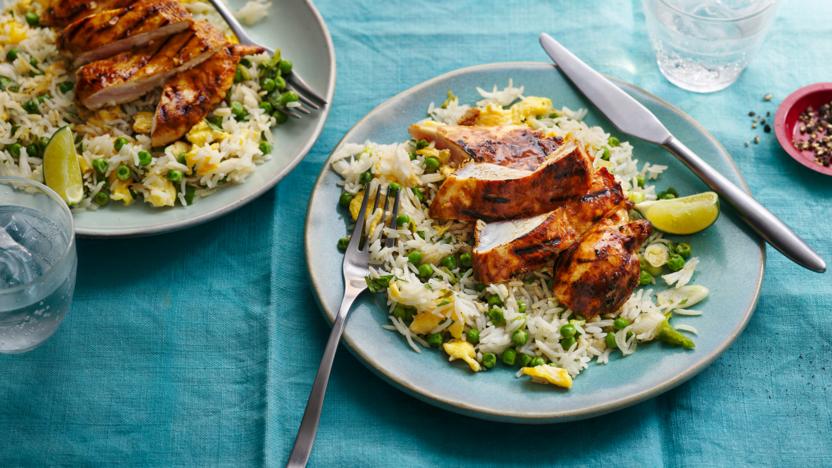 Save time in the kitchen by 'butterflying' chicken breasts to cook quickly with this easy dish from The Hairy Bikers that's ready in 20 minutes.
Ingredients
For the chicken
For the rice
Method
To butterfly the chicken breasts, lay them on a board and use a sharp knife to make a cut parallel to the chopping board three-quarters of the way through each breast. Open each chicken breast out so you have two large, thinner chicken breasts.

Place them in a bowl with one tablespoon of the sesame oil, the vegetable oil, soy sauce, garlic and lemon zest and juice. Season with salt and freshly ground black pepper and mix to combine. In a separate bowl, mix the honey with the remaining sesame oil.

Heat a griddle pan over a medium-high heat until smoking then lay the chicken on the griddle and cook for 2-3 minutes on each side, brushing it once or twice with the honey and sesame mixture. When it's done the chicken should be chargrilled on the outside and completely cooked through (the juices should run clear when a skewer is inserted into the thickest part of the chicken). Leave to rest for 2-3 minutes.

Meanwhile, for the rice, heat a wok over a high heat then add the groundnut and one teaspoon of the sesame oil. When the oil starts to shimmer add the eggs and cook, stirring all the time, for 1-2 minutes or until they're scrambled.

Push the eggs to the side of the pan and add a little more sesame oil, the soy sauce, spring onions and peas and cook for one minute then add the rice and season with salt and freshly ground black pepper. Cook, stirring continuously, for 3-4 minutes, or until warmed through. Stir through the coriander.

To serve, spoon the rice onto plates. Cut the chicken on the diagonal into thin strips and place on top of the rice. Top with a wedge of lime.
Recipe Tips
This is a great recipe for using up leftover rice.