Lemon and lavender posset with lavender biscuits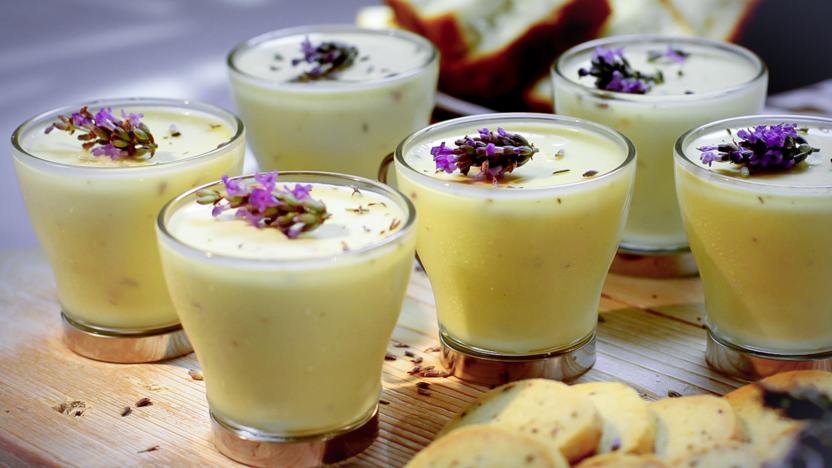 A posset is a very simple pudding that dates back to the middle ages. Some possets can be very heavy on the cream, but I've used lemon juice and fragrant lavender to cut the richness.
Ingredients
For the posset
For the lavender biscuits
Method
To make the posset, put the cream, sugar and lavender in a pan. Gradually bring to the boil, stirring all the time to dissolve the sugar. Reduce the heat a little and simmer for 2-3 minutes, stirring often so that the cream doesn't stick and burn.

Remove the pan from the heat and stir in the lemon juice. Leave to cool for five minutes, then pour into four glass tumblers or small dishes, or six espresso cups. Leave to cool completely then cover with cling film and chill in the fridge for at least three hours, or until set.

Remove from the fridge 20 minutes before serving.

To make the biscuits, place the butter and lavender in a bowl and beat together. This helps release the flavour of the lavender. Add the caster sugar and beat until pale and fluffy. Work in the flour with a fork or wooden spoon. Don't worry if it seems like there is too much flour at this point - it is supposed to be a fairly dry mix. Use your hands to bring the mixture together into a smooth dough.

Form the mixture into a cylinder shape, about 4cm/1½in in diameter and 18cm/7in long, and wrap in greaseproof paper or cling film. Put in the fridge for at least a couple of hours, until firm.

When you are ready to bake the biscuits, preheat the oven to 160C/325F/Gas 3 and line a large baking tray with parchment.

Unwrap the dough and use a sharp, serrated knife to cut 5mm thick discs from the cylinder. Place these onto the lined tray, allowing room for the biscuits to spread a little when they bake. (You'll need to bake them in batches.) Bake for about 15 minutes, or until the edges of the biscuits are just starting to turn golden-brown. Transfer to a wire rack to cool.

Serve the lemon posset with the lavender biscuits. Any leftover biscuits will keep in an airtight container for a few days.
This recipe is from...
Recipes from this episode