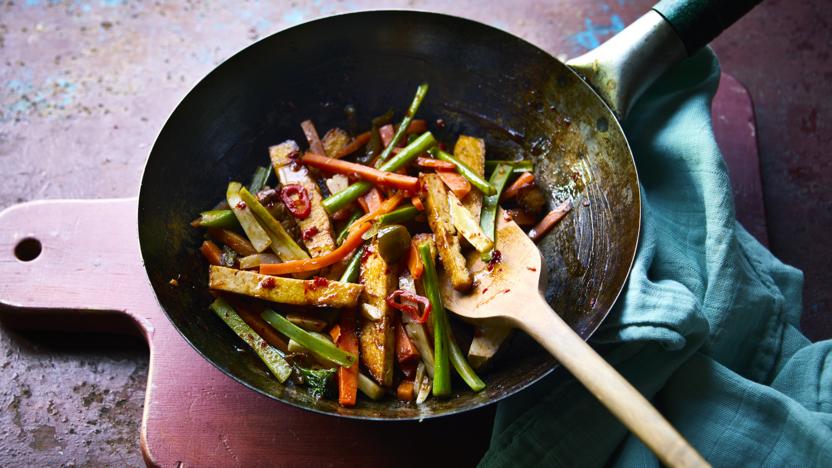 This vegetarian stir fry uses up leftover broccoli stalks and serves them in a spicy chilli bean sauce for a quick and easy dinner that reduces food waste. Serve with rice or noodles alongside.
Ingredients
200g/7oz broccoli stalks (or green beans, sugar-snap peas or any other firm green vegetable), sliced
1 carrot, peeled and cut into long batons
2½ tbsp vegetable oil
100g/3½oz firm tofu, cut into batons
1 large red chilli, finely sliced
2 pickled jalapeños, finely sliced, or 8–10 pieces of presliced jalapeños (depending on how spicy you like your food)
2 garlic cloves, finely sliced
For the sauce
Method
Blanch the broccoli and carrot in boiling water in a wok for 1–2 minutes. Drain in a sieve and then place in a bowl of cold water.

Heat 1 tablespoon of vegetable oil in a large frying pan over a medium heat. Fry the tofu for 5–6 minutes until golden brown on each side, turning the tofu carefully so as not to break the batons.

Get all the remaining stir fry ingredients prepared and have them close by ready for cooking.

To make the sauce, mix all of the ingredients together in a small bowl.

Heat the remaining vegetable oil in a wok over a medium heat. When smoking hot, add the chilli, jalapeños and garlic to the wok and stir-fry until golden brown. Turn the heat up to high and, once smoking hot again, add the broccoli and carrot and continue to stir-fry for 30 seconds before adding the tofu. Bring the wok to a high heat, making sure it is smoking hot before pouring the sauce in. Bring to a vigorous boil. Stir-fry for a further minute and then serve.