Healthy leek and potato soup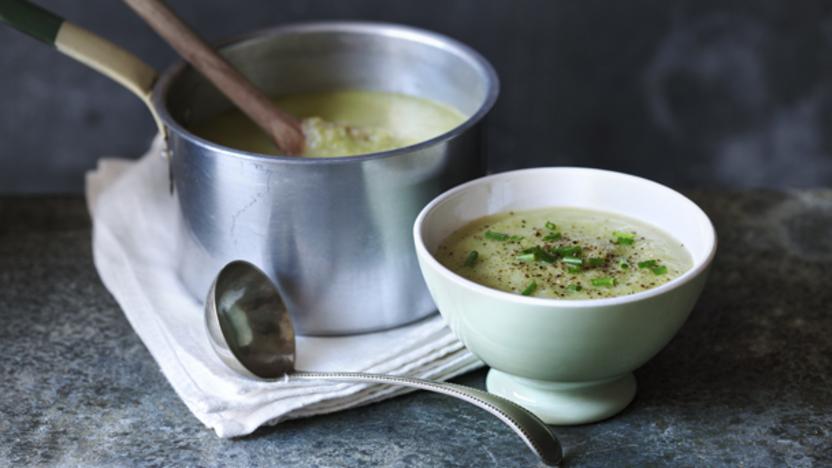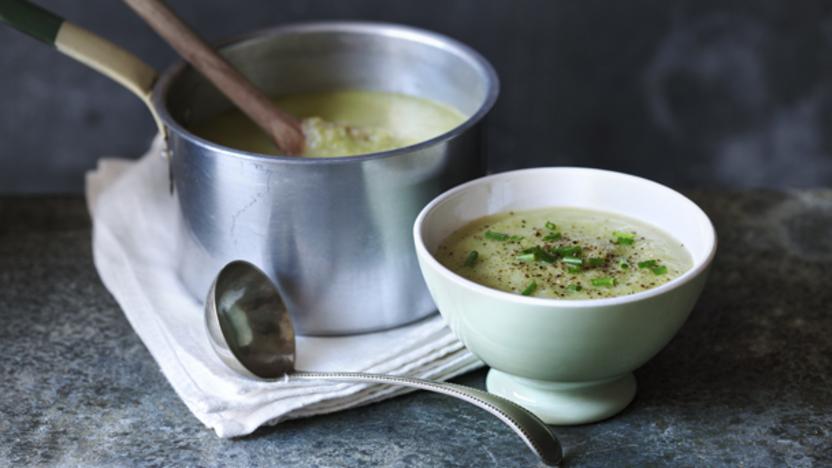 Using celeriac with traditional potato gives this healthy leek soup a velvety, creamy texture and a delicious flavour.

Equipment and preparation: For this recipe you will need a blender.
Ingredients
For the vegetable stock
For the leek soup
Method
To make the stock, put the grated carrot, onion, celery and garlic into a large heatproof bowl. Add a pinch of salt and pepper and pour over 1 litre/1¾ pints of boiling water. Set aside to steep for 10-15 minutes while you prepare the soup.

Heat a large heavy-based saucepan or casserole dish over a medium heat. Add a dash of oil and, once hot, add the onion, potatoes, celeriac and thyme leaves. Cook over a medium heat for 10 minutes, or until the vegetables have softened.

Strain the stock through a sieve into the pan of celeriac. Simmer gently for 10-15 minutes until the celeriac is nearly tender.

Add the leeks, cover the pan and cook for a further 5-7 minutes, or until the leeks are wilted and tender but still bright green.

Remove from the heat and blend in batches until really smooth. (Blend for a minute or longer for a really velvety texture.) The soup can be stored in the fridge or frozen at this stage.

Transfer the blended soup to a clean pan. Reheat the soup if necessary, taste and season with salt and pepper to taste.To serve, spoon into bowls and garnish with chopped chives.
Recipe Tips
Freeze this easy soup for up to 3 months.