Late night naughty noodles
Judy Joo's late night spicy noodle soup is great after a night out with its spicy, salty flavours. You can swap in other leftover cooked meats or veg from the fridge.


Ingredients
750ml/1¼ pints chicken stock
2 tsp gochujang (Korean chilli paste)
1 tsp doenjang (Korean soya bean paste)
1 tsp gochugaru (Korean chilli flakes), plus extra to garnish (optional)
1 packet instant ramen noodles, seasoning pack discarded
5 large frozen prawns, peeled and deveined
handful sugar-snap peas or baby spinach
60g/2¼oz cooked leftover chicken, roughly shredded
1 spring onion, cut into 5cm/2in pieces, plus large pinch of thinly sliced spring onions, to garnish (optional)
1 large free-range egg
freshly ground black pepper, to garnish (optional)
Method
In a saucepan, combine the stock, gochujang, doenjang, gochugaru and chilli and bring to the boil over a high heat, whisking occasionally to dissolve the doenjang.

Open the packet of noodles and, keeping the noodles in the bag, break them in half crossways. Put both halves into the boiling stock mixture. Add the prawns and sugar-snap peas (if using the spinach, wait until the next step).

Bring the broth back to the boil and add the chicken and spring onion pieces. If using the spinach, add after about 5 minutes or when the noodles are almost done, and stir to wilt. Crack the egg into the saucepan and let it poach or give it a gentle stir to break up and form egg ribbons. Eat the noodles straight from the pan or, if you're feeling fancy, transfer to a bowl and garnish with sliced spring onions, chilli flakes and pepper.
This recipe is from...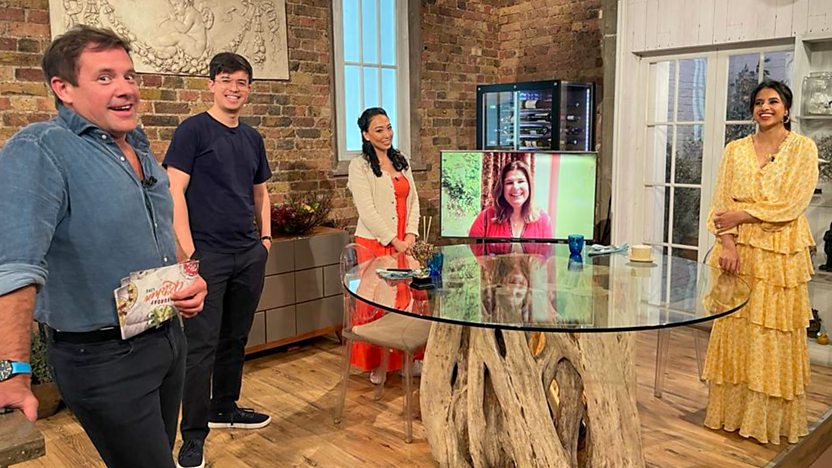 Saturday Kitchen
14/08/2021