Last minute Christmas chutney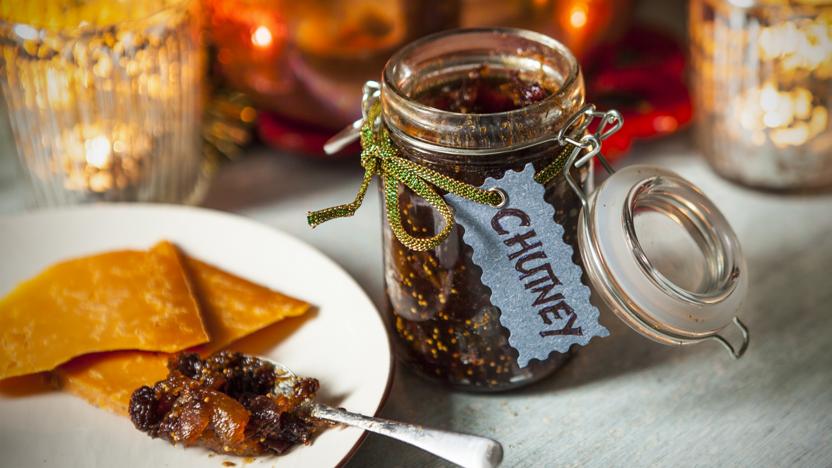 Liven up your buffet table and use up any dried fruit left over from your Christmas baking in this instant chutney.
Method
Heat the oil in a large non-reactive saucepan and fry the onions over a low heat for 10 minutes, or until very soft but not coloured.

Add the garlic and ginger, and cook for a further 2-3 minutes.

Increase the heat slightly and fry for a further 4-5 minutes, until the onions begin to brown, stirring constantly.

Add the apricots, figs and raisins to the pan and cook for 2-3 minutes, or until the dried fruit begins to plump up a little.

Sprinkle over the sugar, add the vinegar, spices and season to taste with salt and freshly ground black pepper.

Stir well and bring to a gentle simmer, and cook, uncovered, for 30 minutes, stirring occasionally. (The chutney is more likely to stick towards the end of the cooking time so pay particular attention to stirring then.)

The chutney is ready when the liquid has reduced to just 4-5 tablespoons, and the fruit looks plump and glossy. Remove from the heat and set aside to cool. As the chutney cools stir it a little to distribute the moisture.

Spoon the chutney into sterilised jars.
Recipe Tips
To sterilise the jars, wash in very hot water or on the hot cycle of a dishwasher. Preheat the oven to 160C/325F/Gas 3. Place the jars upside down on a baking tray and dry in the oven for 10-15 minutes. The chutney will keep in the fridge, covered well, for up to one month.