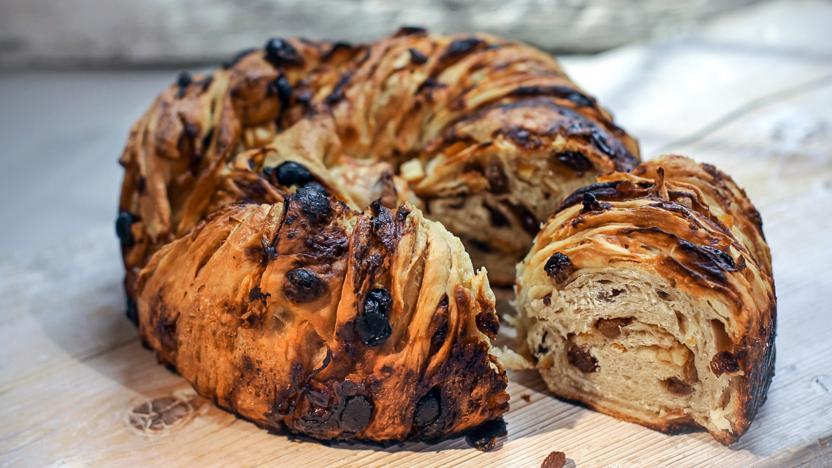 All the rich, indulgent flavours of lardy cake packed into a soft enriched dough, that's twisted to make a crown fit to grace any table.
Method
Put the flour into a large mixing bowl. Add the salt to one side and the yeast to the other. Mix together then rub in the butter using your fingertips. Pour in 225ml/7½fl oz of water and mix to form a dough. Add a little extra water to form a soft dough that leaves the sides of the bowl clean.

Tip the dough out onto a lightly floured work surface and knead for 5-10 minutes, or until the dough is smooth. Place in a clean bowl and leave to rise for at least 3-4 hours, or until doubled in size.

Preheat the oven to 200C/400F/Gas 6 and grease a 20cm/8in springform tin with butter.

Tip the dough onto a lightly floured work surface. Press with your fingers to flatten out into a rectangle, about 50x20cm/20x8in. Scatter the lard to cover two thirds of the dough and sprinkle the sugar over the lard. Cover the sugar with the dried fruit. Bring the uncovered section over into the centre, then fold the other third on top.

Turn the dough so a long edge is facing you and roll into a large rectangle. Tack the bottom of the dough to the work surface by pressing the edge with your fingers. Roll the dough into a long sausage shape, starting at the long edge furthest away from you. Cut down the entire length of the roll, to form two long strips and reveal the fruit inside.

Hold the pieces firmly at each end and twist tightly together, moving your hands in opposite directions. Now coil the twisted dough together into a circle and press the ends firmly together.

Place the crown into the prepared tin. Leave to prove until it reaches the top of the tin. This will take approximately 1½ hours.

Bake for 25-30 minutes, or until golden-brown.
This recipe is from...
Recipes from this episode