Lamb steaks with anchovy butter, salsify and walnuts
Ingredients
For the lamb
For the anchovy butter
For the salsify with walnuts
Method
For the lamb, rub the oil and garlic onto the steaks. Place them in a bowl, cover and leave in the fridge for at least six hours.

A quarter of an hour or so before you are ready to cook, remove the lamb from the fridge and bring back to room temperature.

Heat a griddle pan until hot. Place the steaks on the griddle and cook for 3-4 minutes on both sides. Remove the steaks from the pan, season with salt and freshly ground black pepper, to taste, and set aside in a warm place to rest.

For the anchovy butter, place the butter into a bowl and add the anchovy essence, lemon zest and chopped anchovies and mix to combine.

Place the butter mixture onto a sheet of cling film or baking parchment laid out on a clean work surface, and roll into a log.

Place the prepared butter log in the fridge and leave to chill until firm.

For the salsify, fill a bowl with water and add half the lemon juice. Peel the salsify and slice into 5cm/2in pieces and immediately place the salsify in the bowl (to stop it from discolouring).

Meanwhile, combine a splash of the 1.5 litres/2½ pints water with the flour in a saucepan and stir to make a smooth paste.

Add the remaining 1.5 litres/2½ pints water and lemon juice, along with the salt. Bring to a boil, whisking continuously. This mixture is called a 'blanc'.

Drain the salsify and place it in the pan with the blanc.

Bring to the boil, then reduce the heat to a simmer and cook for 15 minutes until tender.

Drain and rinse the salsify in cold water and pat dry.

Heat a non-stick frying pan, add half of the clarified butter and then add the dry salsify.

Season with a little salt and freshly ground black pepper and fry gently to colour and heat through. Place the remaining clarified butter in another frying pan, add the walnuts and place over a high heat for a couple of minutes. Be careful not to let the nuts burn.

Add the sultanas, sugar and vinegar to the walnuts. The sugar will caramelise and the vinegar will reduce to a glaze.

Remove from the heat and whisk in the unsalted butter. Season with salt and black pepper, to taste. Pour this mixture over the salsify and toss together.

To serve, preheat the grill to hot. Remove the anchovy butter from the fridge and slice. Place a slice of butter over each lamb steak and place the lamb on a tray under the grill to melt the butter.

Transfer the lamb steaks to two serving plates. Spoon the salsify alongside, garnish with chopped parsley and serve.
This recipe is from...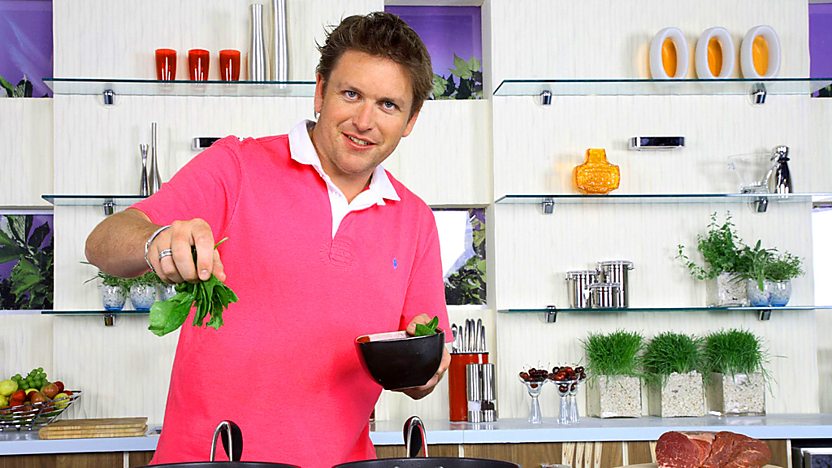 2007-16
Episode 166