Lamb, pepper and pineapple kebabs with lime, chilli and coriander mayonnaise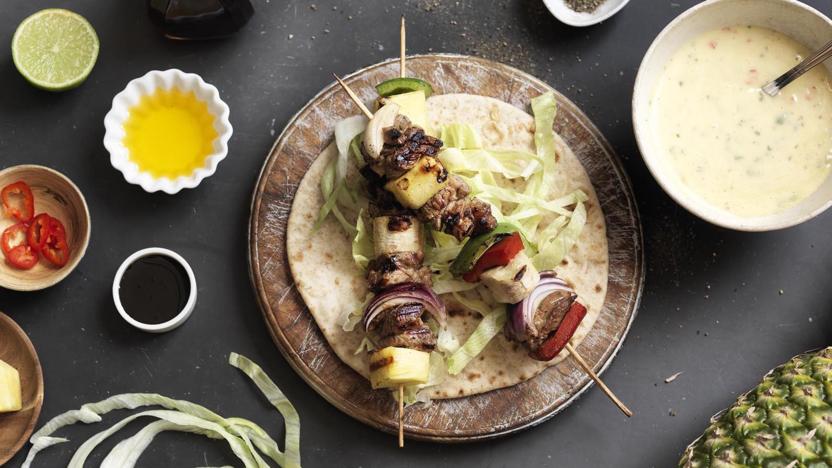 Try a pineapple marinade on cheaper cuts of meat - and let the enzymes work their magic for sweet, tender barbecue food with a Jamaican feel.
Ingredients
For the marinade
For the kebabs
For the lime, chilli and coriander mayonnaise
To serve
Method
For the marinade, in a glass or ceramic bowl, mix the pineapple juice, vinegar, molasses sugar and seasoning together until smooth and well combined.

For the kebabs, rinse the lamb neck fillet and pat dry with kitchen paper. Place the lamb into an ovenproof glass or ceramic dish and pour over half of the marinade mixture. Cover the dish and chill in the fridge for between one and four hours.

Meanwhile, for the lime, chilli and coriander mayonnaise, in a bowl, beat together the egg yolks, mustard, salt and freshly ground black pepper, garlic and half of the lime juice until well combined.

Gradually add the oil in a thin stream, whisking contiuously, until the mixture thickens and all of the oil has been incorporated into the mixture.

Stir in the shredded chilli and reserved chilli seeds, chopped coriander and the remaining lime juice. Mix until well combined, then chill in the fridge until needed.

Soak twelve wooden skewers in cold water for at least 30 minutes, then shake off any excess moisture.

When the meat has marinated, thread alternate pieces of red and green pepper, onion, pineapple, banana and marinated lamb onto the soaked skewers to make 10-12 kebabs. Leave 3-5cm/1-2in free at one end of each skewer with which you can grip the skewers. Brush the kebabs all over with the oil.

Heat a griddle pan over a high heat. When the pan is very hot, add the kebabs, in batches if necessary, and fry for 8-10 minutes, basting at intervals with the remaining marinade and turning regularly. (NB: The kebabs can also be barbecued or grilled under a medium hot grill, if desired.)

To serve, stuff the flatbreads with the lettuce and drizzle in a little of the lime, chilli and coriander mayonnaise. Sandwich two kebabs inside each flatbread.